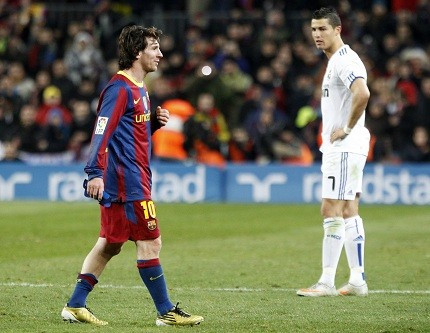 All the latest transfer rumours from Real Madrid for Monday 5 September 2011. Real Madrid are rumoured to be ready to make bids for Manchester United striker Javier Hernandez and Luiz Suarez in the January transfer window. Ronaldo has told Neymar to join Real Madrid in the next transfer window whilst Cristiano Ronaldo has claimed Real Madrid is the world best team in an interview with UEFA.
Brazil and Real Madrid legendary striker Ronaldo has told Neymar that he should join Real Madrid over rivals Barcelona this January.
Reports over the weekend claimed that the Brazilian forward was poised to join Barcelona but Santos has dismissed the rumours. Ronaldo has told the young striker that whilst both options are favourable for the development of his career, Real Madrid is the club for him.
"Both options are great, but I still hope he goes to Real Madrid, where I spent five years," Ronaldo told Terra. "I think it would be better for him," he added.
Neymar has always affirmed he is in no rush to embark on a move in Europe, but two-time World Cup winner Ronaldo says the 19-year-old needs to leave his homeland sooner rather than later. "Brazil has become too small for Neymar," Ronaldo added. "This is his moment and he needs to have the ambition to conquer the world, rather than just be the best in Brazil," the Real Madrid legend continued.
Jose Mourinho is said to be keen to sign Manchester United striker Javier Hernandez.
The Mexican international was a revelation for the club last season and has attracted attention from Real Madrid with Jose Mourinho said to be ready to test Manchester United's resolve to keep the forward. Javier Hernandez's agent earlier this year revealed that any offers for 'Chicharito' would have to be considered, but the former Chivas Guadalajara striker is happy at Old Trafford and is not looking to leave the club.
Caughtoffside.com also reports that Jose Mourinho and his Real Madrid side will make a move for Liverpool striker Luis Suarez. The website claims that Mourinho is keen o land the Uruguayan international in January after missing out of Neymar in the transfer window and will play on the fact that Madrid can offer the player Champions League football.
Cristiano Ronaldo has told UEFA that it his belief that Real Madrid are the world's number one side.
According to Goal.com, former Manchester United star man claims that despite Barcelona's recent dominance at home and abroad, Real Madrid still remain the side to beat.
"Real Madrid are the best club in the world and [there is] a lot of envy," he told UEFA in a recent interview.
Jose Mourinho's side started their 2011-12 campaign with a 6-0 away win over Real Zaragoza, with the 26-year-old netting a hat-trick, and he feels that it could be a successful season in the Spanish capital city.
"I think this will be a great year for us," he continued