Paramount Pictures has unveiled a new poster and video from Transformers The Last Knight, which throw light on the history of the alien robotic world that existed parallel to the Earth. The image was released on the movie's official Instagram page.
The poster features a Transformers knight standing against the backdrop of a medieval war scene. The caption reads: "They have been here forever".
As of now, fans know that the film is set to unearth the mythology of the machines that is expected to navigate the plot towards a thrilling story in the fifth sequel.
Paramount Pictures has also released a TV spot where Sir Anthony Hopkins' Edmund Burton narrates the brief history of the Transformers since the medieval times.
"It started as legends, one of the greatest of them all. One of the oldest of them all. But every legend has a secret," Edmund Burton says in the clip. "They have been here forever in the shadows to protect earth from what was destined to arrive. For thousands of years, we have kept it as a secret history of Transformers."
The caption for the video reads: "They've always been legendary; now you know why." The footage shows the titular machines fighting alongside their human friends, the presence of transformers during the Apollo 11 moon landing and a World War II scene where the transformers attack a Nazi facility.
The upcoming sequel to the blockbuster motion picture franchise is set to dig deep into the mythology of the transformers and their association with the humans. Until the movie The Age of Extinction, it was a battle between the Autobots, who vow to protect humans from the evil Decepticons.
In the fifth film of the franchise inspired by the Hasbro toy line, Mark Wahlberg's human protagonist Cade Yaeger is set to play an important role in the battle between Cybertron and the Earth. From the series of trailers, fans speculate that the world in the new movie faces an apocalypse kind of situation after being attacked by gigantic alien machines.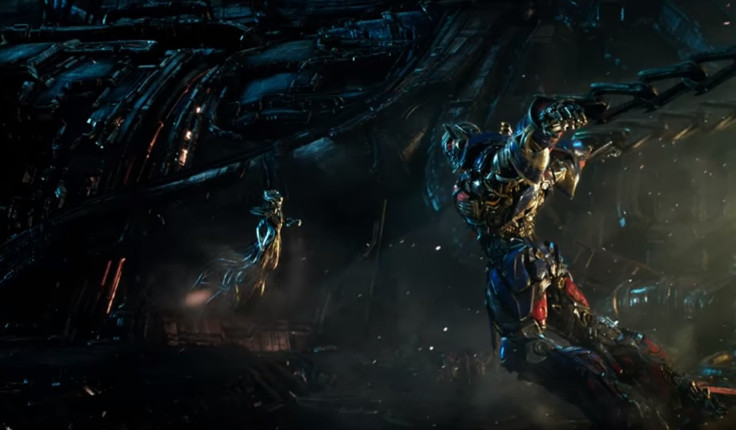 Optimus, who kept Bumblebee in charge to protect earth from the Decepticons and left for the outer space in the fourth sequel, has returned. But to everyone's surprise, he tries to kill his own clan and the humans whom he once used to call his 'friends'.
In order to stop the catastrophe, Cade must visit an English Lord who would guide him towards the mythology of the transformers that holds key to defeat the machines. But Cade won't be along in the journey as he will be joined by an Oxford Professor, a brave teen girl Izabella (Isabela Moner) and of course the Autobots who still vow to protect humans.
Transformers: The Last Knight releases in theatres on 23 June 2017.