Travelling to the United States? You may be forced to give up your social media passwords
This may be the next phase of President Trump's 'extreme vetting' agenda.
Foreigners travelling to the United States could be required to give up their social media passwords as a condition of entry.
US President Donald Trump's new Secretary of Homeland Security, John Kelly, confirmed the potential measure at his first hearing of the House Homeland Security Committee on Tuesday (7 February).
He said it would be an extension of Trump's "extreme vetting" agenda, which targets people from Iran, Iraq, Libya, Somalia, Sudan, Syria and Yemen.
"We're looking at some enhanced or some additional screening," Kelly said at the hearing, reported AFP. "We may want to get on their social media, with passwords.
"It's very hard to truly vet these people in these countries, the seven countries. But if they come in, we want to say, what websites do they visit, and give us your passwords. So we can see what they do on the internet."
"If they don't want to cooperate, then they don't come in."
Kelly stressed that no decision has been made on this issue, but said tighter screening was definitely on the horizon, even if it means longer delays for awarding US visas to visitors.
"These are the things we are thinking about," he said. "But we can ask them for this kind of information and if they truly want to come to America, then they will cooperate. If not, next in line!"
His comments came as a legal challenge temporarily halted Trump's travel ban on seven Muslim-majority countries. On Tuesday (7 February) the 9th Circuit Court of Appeals in San Francisco heard arguments from both Washington State, who are suing the government, and the US Department of Justice.
A decision has yet to be made on the travel ban, but the battle is likely to escalate all the way to the Supreme Court.
Kelly admitted tp the hearing that he should have delayed the roll-out of the ban by a day or two so he could have notified Congress.
He also denied it was a "Muslim ban", explaining that the countries chosen are those where the US does not trust the capabilities of local police and government to identify and provide records on its citizens.
That contradicts a report recently published by the Washington Post that claimed that Trump had approached former New York City Mayor Rudy Giuliani for advice on how to make a "Muslim ban" legal.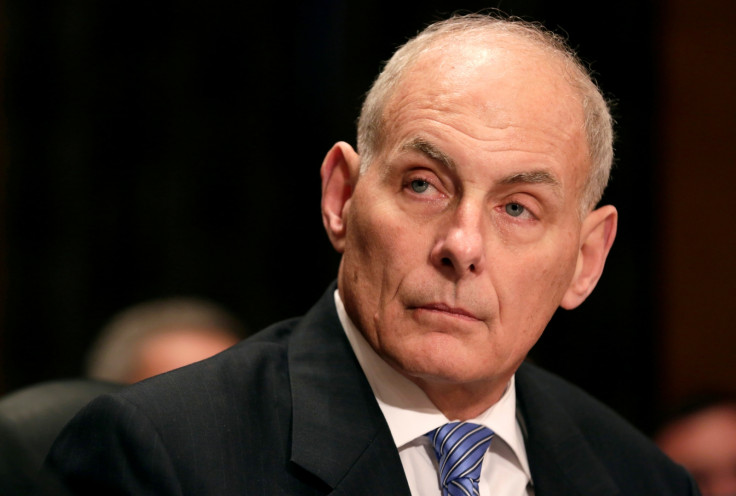 © Copyright IBTimes 2023. All rights reserved.