Mahsa Rezazadeh started her café in Tehran seven years ago and now brings in a better wage than her husband, a lawyer. She attributes her success amid a sanctions-shattered Iranian economy to hard work and the fact that however bad things get in Iran, Iranians cannot resist the smell of a home-cooked meal and freshly brewed coffee. "People may cut other expenses but they don't compromise their stomach," Rezazadeh, a mother of two, tells IBTimes UK from her café Little House in central Tehran.
But although business is good, Rezazadeh says that running the café is a difficult balancing act. She sees far less of her children than she would like to and says she cannot afford to hire staff to ease the burden. She also finds that while customers want quality, they are reluctant to pay for it.
Like many Iranian entrepreneurs, Rezazadeh is hoping that the lifting of sanctions following the nuclear deal between Iran and the US will trickle down, so that those who frequent her café will have more money to spend on food and coffee. "If sanctions are lifted and my customers can pay more money and I will able to do more," she said.
The prominence of female entrepreneurs in Iran can come as a surprise to those who only see the stories in the international press about Iranian female football players being barred from competing in tournaments by their husbands or who know that women in Iran are required to cover their heads at all time.
And the fact remains that women's position in the workforce and in society at large is a contentious issue in Iran. The rate of unemployment for women is two times that of men, while sanctions have tended to hit working women harder as employers will prioritize male workers over females.
Leila, 39, took maternity leave from her job in a factory last year only to be told when she wanted to come back to work that her role had been given to a man. "I never ever thought that if I used my maternity leave it would lead to losing my job," she said.
This is especially frustrating for single Iranian women with families, who do not have a second income to rely on from their husbands. For the younger generation, reformer Hassan Rouhani taking over the presidency and the nuclear deal being signed present many opportunities.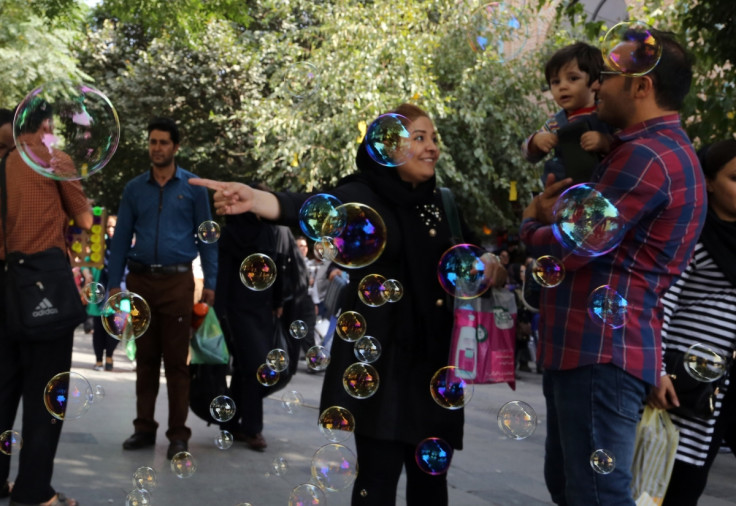 Mona Mahpeyma, 25, is a graphic design graduate and aspiring fashion designer, who owns her own outlet in Tehran. She found that family and friends were sceptical about her business when she started out because of social and conservative traditions in Iran.
"At first some thought that I as a woman could not make it but [...] restrictions could not stop me. In business the restrictions for women are less than other areas like politics and sports," she said. "The main restriction in doing business is financial, which is equal for men and women."
The sanctions had been particularly problematic for Mahpeyma as they made the raw materials she needs far more expensive. She is hoping that Iran's textile industry can now grow meaning her costs will go down.
"At the time of the international sanctions imposed on us, the market for clothing and fashion was not money making. Now, if I decide to expand my business internationally without any sanctions I will have the opportunity to present myself as an Iranian designer internationally. Now I hope for a better change for women like me who have their own startups."
Maryam Babak is a freelance journalist based in Tehran.