Tributes have been paid to a British man who was killed fighting Islamic State (Isis) in Syria alongside Kurdish militia fighters.
Dean Carl Evans, 22, from Reading, was killed fighting for the Kurdish YPG (People's Defence Units) in an offensive against Isis in Manbij, Syria, on 21 July. "He was loved and will be missed by all his family and friends rip son xx xx," wrote his father, John Evans, on Facebook.
The YPG described Evans as a "martyr" who had "revolutionary and combative spirit on the front lines and always fought without hesitation to protect the people of this region".
UK based pro-Kurdish activist Mark Campbell told the BBC Evans had travelled to Syria in 2015, and again in March this year. "Dean was on the very front line and had been shot by an Isis-fired bullet and had fallen behind a wall," he told Radio 4.
"A Kurdish woman fighter for the YPJ had gone to his aid to attend to him and then both of them were tragically hit by an Isis RPG rocket and tragically they both died."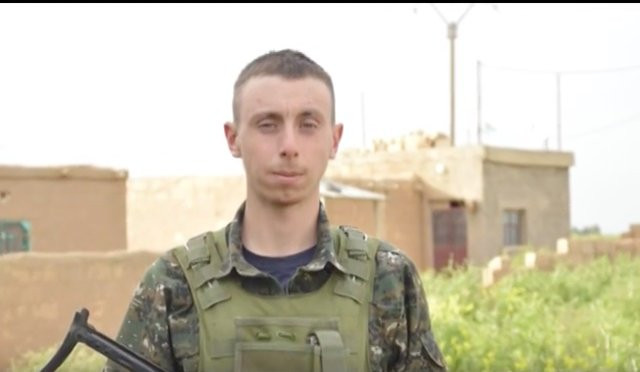 Campbell told the Guardian that Evans had wanted to join the British Army, but had been unable to because of his asthma. "He followed the rise of Isis and had very strong feelings about their barbarity. He wanted to stop them. So when he saw an opportunity to join an army fighting Isis, he joined the YPG," he said.
Campbell added that Evans did not want his body to be repatriated, but wished to be buried with his "Kurdish brothers and sisters."
Another British YPG volunteer, Harry, who is known as Macer Gifford, posted a tribute to Evans, referring to him by his Kurdish alias, Givara Rojava. He said that Evans was always there to offer "advice and support," though the two had not fought together.
"Givara and I go back. We first met last year in Til Tamar and this was his second trip to Rojava. After both of us went home to rest, he stayed in touch and he was keen to help the YPG in any way possible." Gifford added: "He was a fellow British man that couldn't share this world with Isis. A man that felt that positive action rather than meaningless words would make a difference in this world."
In an online tribute, Jac Holmes, an IT worker who has fought against Isis for the YPG, said he had met Evans twice, and described him as a "great man" who had "moulded himself into a soldier during his time in the Middle East.
Konstandinos Erik Scurfield, a former Royal Marine from Barnsley, was the first Briton to be killed fighting Isis after enlisting for the YPG. He was killed by mortar fire in March, 2015.