Grateful Kurds turned out in their hundreds to pay tribute to British former Royal Marine Konstandinos Erik Scurfield, who was killed in Syria fighting against Islamic State (IS).
Scurfield's coffin, covered in flowers and draped with the Kurdish and UK flags was returned by the Kurds to his father Chris and uncle on the Syria-Iraq border. His body was then put in an ambulance and will be taken to Erbil before being flown back to Britain. The Foreign Office have not yet confirmed when his body will be repatriated.
Chris Scurfield told BBC correspondent Jim Muir that the "comforting ceremony" had been "overwhelming" and the tribute "very special and very comforting" for the family. Many of those who gathered and formed a guard of honour were male and female soldiers involved in the struggle against IS.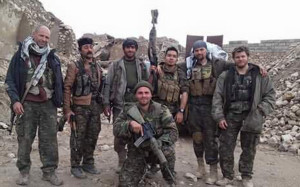 "We're very impressed, and so grateful to the Kurds for looking after his body," said Mr Scurfield. "We just look forward to taking him home now."
Speaking about the continued threat posed by IS, and praising the Kurds, Mr Scurfield said: "what they're up against is evil and I hope and wish them every success in the future, and I hope that they will - well, they will win this. The world's got to let them win it."
Battlefield medicine expert Konstandinos went to help the Kurds in Syria because he was horrified by the brutality of IS. He was shot dead near the village of Tel Khuzela on 2 March.
An estimated 100 people from countries including Britain, the US, the Netherlands and Australia have gone to fight with the Kurds. Some 500 Britons have gone to join the Islamists.
In a statement the Scurfield family said: "His flame might have burned briefly but it burned brightly with love, courage, conviction and honour and we are very proud of him."