Tropical Cyclone Ita has been upgraded to a category five as Nasa satellite images show an eye forming as the storm front makes its way to Australia from Papua New Guinea.
Ita has been intensifying as it moves across the Coral Reaf sea near the southeastern tip of Papua New Guinea.
Images from Nasa and the Japan Aerospace Exploration Agency's Tropical Rainfall Measuring Mission (TRMM) satellite showed how it had developed a large and well-defined eye, with sustained winds of 92mph.
Data also shows how it is producing 3.9 inches of rain every hour, with tall thunderstorms in the eye reaching heights of 9.9 miles.
At that time, Ita was 400 miles from Cairns and generating 7.6 metre waves.
"The Joint Typhoon Warning Centre is forecasting Ita to strengthen over the next two days with maximum sustained winds peaking near 105 knots before weakening from interaction with the land. Ita is expected to move southwest through the Coral Sea and reach the eastern Cape York Peninsula, Queensland by Friday, 11 April," Nasa said.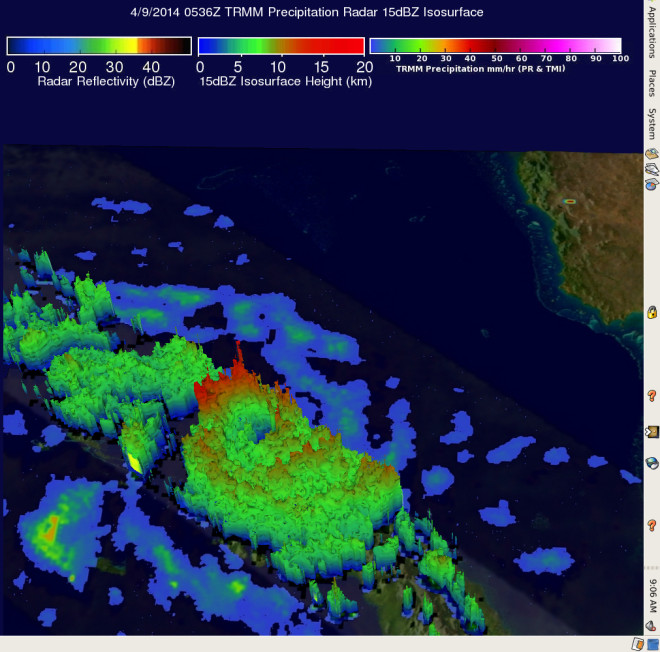 According to Australia's Associated Press, Ita was upgraded to a category five, meaning dangerous storm surges would hit Australia between Port Douglas to Cape Melville.
Pradeep Singh, chief forecaster at Queensland's Bureau of Meteorology, said the cyclone has the potential to trigger flash floods. Wind speeds are expected to reach 173mph.
Australia's Daily Telegraph reported that Cairns hospital would stop services ahead of Ita, with all outpatient clinics, elective surgeries and endoscopies cancelled. Inpatients who are able to return to their homes will be discharged as part of the hospital disaster plan.
Queensland premier Campbell Newman said: "The big concerns people need to prepare for are a storm surge, which means in low-lying areas water much higher potentially than normal tides, potentially a metre-and-a-half higher than the highest tide you would normally ever see.
"That could be all the way down the coast through Cooktown to places like Port Douglas. That's the worst-case scenario.
"The other big concern of course will be the normal high winds that can cause debris flying around, which people need to prepare for and very intense rain causing quite severe local flooding."