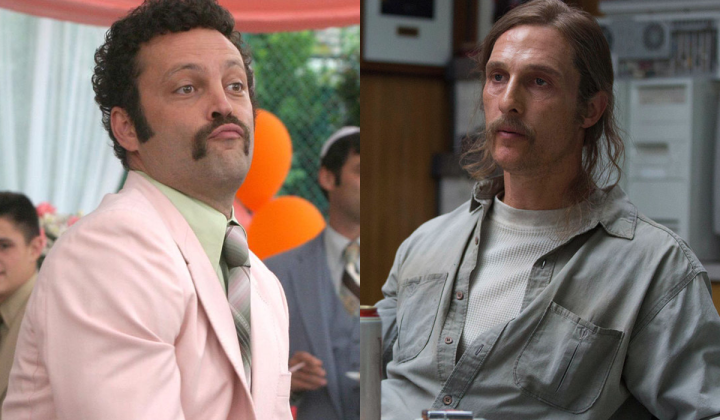 Comic actor Vince Vaughn is in talks to join True Detective season two as one of the three leads, according to reports.
TV Line believe the Dodgeball and Wedding Crashers star is in "preliminary talks" to join the HBO show, which would be a major departure for the actor who is often associated with more comedic roles.
Colin Farrell was strongly linked to the show in July, with Taylor Kitsch also apparently being sought for a role.
Meanwhile The Wrap has reported a potential summary of storylines for the new season, as well as revealing that Mad Men star Elisabeth Moss is being eyed for the highly-sought-after lead-female role.
Here is how The Wrap's series synopsis reads...
They report that Vaughn is in talks to play Frank Semyon, "a former thug-turned-businessman who's working with a local mayor and his political cohorts to spearhead the construction of a high-speed railway system that links Southern California to Northern California in order to reap financial gains from federal grants and land purchases."
Moss meanwhile is in the running for the role of Ani Bezzerides "a tough, no-nonsense Monterey sheriff whose troubled upbringing has driven her to gambling and alcohol."
Colin Farrell, they say, is "nearing a deal to play Ray Velcoro, who has been damaged by years of turmoil in both his personal and professional lives."
Meanwhile Taylor Kitsch is said to be "angling for the role of Paul Woodrugh, a handsome 28-year-old military veteran who has seen his own share of violence and destruction."
The Wrap also reports that Michelle Forbes of the US remake of The Killing could be in line to play "either Farrell's ex-wife (a survivor of sexual assault) or Vaughn's charming but mercurial wife."
News that Vaughn might take a major role in the series has been met with scepticism by some fans of the show, but should these reports be accurate it would signal a huge career shift for the comic actor.
Matthew McConaughey, who starred in the first series, undertook a similar career shift from romcoms to more serious roles at the turn of the decade and managed to completely turn around his career and the public's perception of him. It was dubbed the "McConaissance" by some, so could this be the start of the "Vaughnaissance"?
True Detective series two is expected to hit our screens early next year.