Trump adds Obama terrorism critic and campaign lawyer to White House staff
The President-elect picks Kathleen 'KT' McFarland and Donald McGahn for new positions in the Oval Office.
President-elect Donald Trump has filled two influential White House staff jobs appointing a critic of Barack Obama's terrorism strategy and an election lawyer tasked with distancing Trump from his many business interests.
The Republican, who will take office in January, chose national security analyst and media commentator Kathleen "KT" McFarland as his deputy national security adviser and Donald McGahn, a Washington election lawyer as his White House counsel.
The appointments, made on Friday 25 November, come as he continues to build the team that will run the country as Wisconsin ordered a recount in a state that Trump won. The appointments follow the selection of South Carolina governor Nikki Haley as UN ambassador and billionaire businesswoman Betsy DeVos as education secretary.
McFarland, who served under presidents Richard Nixon, Gerald Ford and Ronald Reagan, marks the third female appointment to Trump's administration. Most recently she worked as an analyst for Fox News frequently criticising President Barack Obama's foreign policy.
McFarland will serve under retired Lt. Gen. Michael Flynn, who also criticised Obama for his attitude to Islamic extremism. She ran for a US Senate seat in New York in the 2006 Republican primary and has said she will serve as a "foot soldier for the Trump revolution".
"I am proud that KT has once again decided to serve our country and join my national security team," Trump said in a statement. "She has tremendous experience and innate talent that will complement the fantastic team we are assembling, which is crucial because nothing is more important than keeping our people safe."
McFarland had said that a Trump White House was best-placed to improve America's relationships with its allies around the world. "Nobody has called foreign policy right more than President-elect Trump, and he gets no credit for it. I'm honoured and humbled that he has asked me to be part of his team," she said in the statement.
The billionaire businessman also added McGahn to his team in the position of White House counsel. McGahn, a former chairman of the Federal Election Commission, served as his campaign lawyer in his bid for the presidency.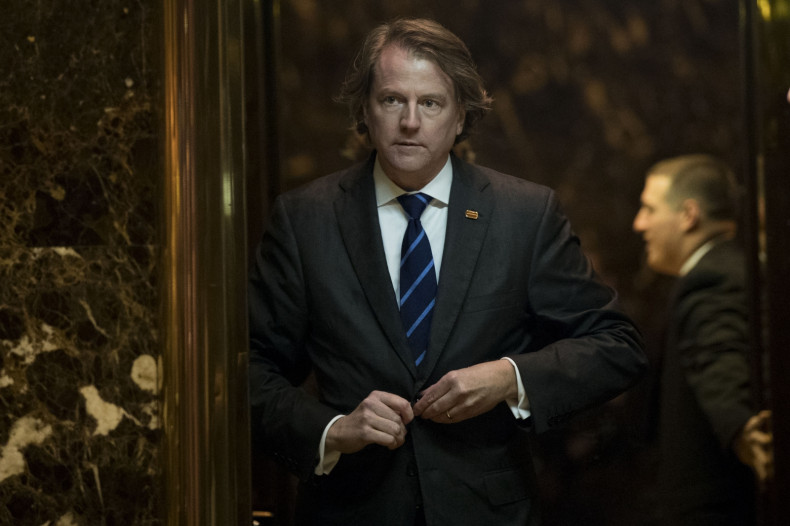 He had previously supported a deregulation of campaign finances and election laws. His position, according to Politico, may be charged with putting distance between Trump and his far-flung business empire. According to the news site the 47-year-old has longstanding familial ties to the Trump empire.
His job, after a legal career spanning two decades, may be tough seeing as Trump shows no inclination toward severing ties with his myriad business interests with critics already arguing the property mogul had too many conflicts of interest for an incoming administration.
"Don has a brilliant legal mind, excellent character and a deep understanding of constitutional law," Trump said in his statement. "He will play a critical role in our administration, and I am grateful that he is willing to serve our country at such a high-level capacity."
McGhan said: "President-elect Trump is a bold leader committed to draining the swamp in Washington and restoring economic prosperity and security. I look forward to serving the American public in this role," he said.