Trump adviser Michael Caputo out after poking fun at ousted Corey Lewandowski on Twitter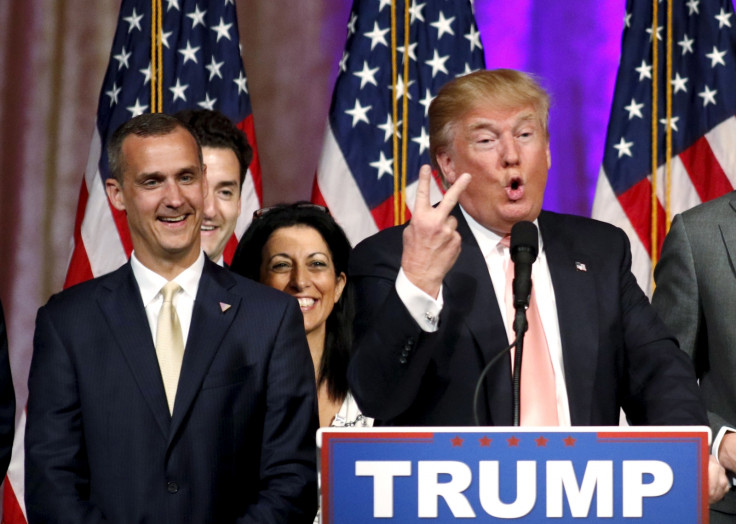 Donald's Trump campaign shrunk by two people on Monday 20 June after campaign manager Corey Lewandowski was sacked and top adviser Michael Caputo resigned for mocking Lewandowski on Twitter. Saputo was Trump's adviser and head of communications for the campaign's caucus operations team.
Following the news of Lewandowski's sacking, Caputo tweeted "Ding Dong the witch is dead" along with a scene from the Wizard of Oz when the Wicked Witch is shown under a house.
"I regret sending out a tweet today alluding to the firing of Corey Lewandowski. In hindsight, that was too exuberant a reaction to this personnel move. I know this is a distraction from the kind of campaign you want to run, so I'm resigning my position as director of communications for caucus operations at the 2016 Republican Convention. Let's make this immediate," Caputo wrote in a letter to campaign chairman Paul Manafort and Rick Gates, CNN reported.
Caputo also expressed his respect for Trump, Manafort and Gates. "I wish you success in the months ahead. I continue to believe Donald Trump must be elected President in November. With you at the helm, I know he can. Call if I can help," he wrote.
Despite the apology and resignation, Caputo has yet to delete the tweet.
The Trump campaign announced earlier on 20 June that campaign manager Lewandowski was no longer with the campaign. "The Donald J Trump Campaign for President, which has set a historic record in the Republican primary having received almost 14 million votes, has today announced that Corey Lewandowski will no longer be working with the campaign," campaign spokeswoman Hope Hicks said in a statement.
"This campaign is grateful to Corey for his hard work and dedication and we wish him the best in the future."
According to The Hill, Lewandowski is believed to have butted heads with Manafort after he took up the campaign chairman role in March. Following his departure, Lewandowski told NBC News: "I don't know if it's so much of a surprise. I just want to say how honoured I've been to be a part of this team. I will support Donald Trump in any endeavour he has. If I can play a role in this campaign, either formal or informal, that would be an honour."
© Copyright IBTimes 2023. All rights reserved.