Trump fires son of national security adviser after he spread 'pizzagate' conspiracy theory
Michael Flynn Jr has been preparing an application to join the National Security Council staff.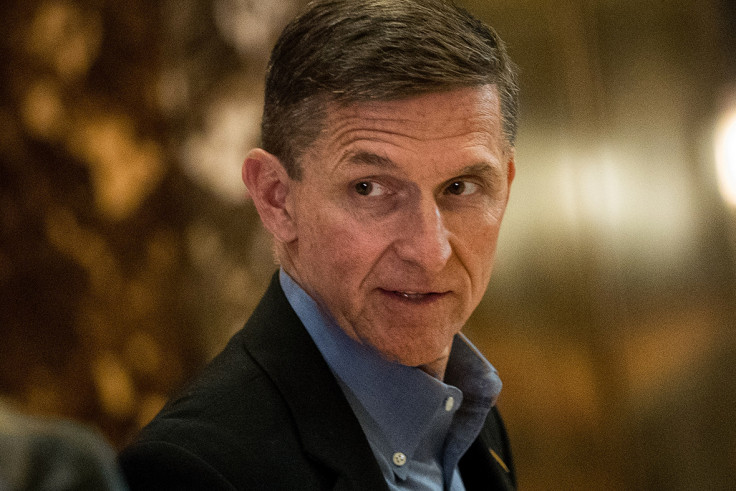 US President-elect Donald Trump fired the son of his national security adviser from his transition team on Tuesday (6 December). Michael G Flynn had been fanning the flames of a conspiracy theory known as "pizzagate" that led to a shooting in a Washington DC pizza parlour.
Flynn spread the verifiably false claim online that Hillary and Bill Clinton were linked to a peadophile sex ring run from a pizza parlour that used code words like "cheese" and "hot dog" for different sex practices.
"Until Pizzagate proven to be false, it'll remain a story," Flynn wrote on Twitter Monday (5 December). The theory and where it came from was thoroughly debunked in November, but it continues to spread.
Flynn's comments were in response to the arrest of a man armed with two guns who opened fire inside the Comet Ping Pong pizza restaurant in Washington DC Sunday (4 December) after he claimed he was there to "self-investigate" the "pizzagate" conspiracy.
When confronted about defending the false story by CNN anchor Jake Tapper, Flynn was unapologetic. "Michael – the police called pizzagate a fictitious conspiracy theory tonight. Does someone have to die before you take this s**t seriously. Spreading this nonsense is dangerous," Tapper wrote in a private message Flynn shared on Twitter.
"I want it to be false," Flynn responded. "You are going to get someone killed. Maybe an innocent child. For what?" Tapper urged him.
In an interview on MSNBC's Morning Joe Tuesday (6 December) Vice-president elect Mike Pence, who is running the transition, denied that Flynn was part of Trump transition team, saying he "has no involvement in the transition whatsoever."
It was revealed that Flynn was a staff member and had a .gov email address. Tapper was told by a source that Flynn Jr "was helping with some scheduling and admin work, but isn't anymore." Transition team spokesman Jason Miller confirmed in a conference call on Tuesday that Flynn had been helping his father out with transition administration and scheduling but was no longer doing that.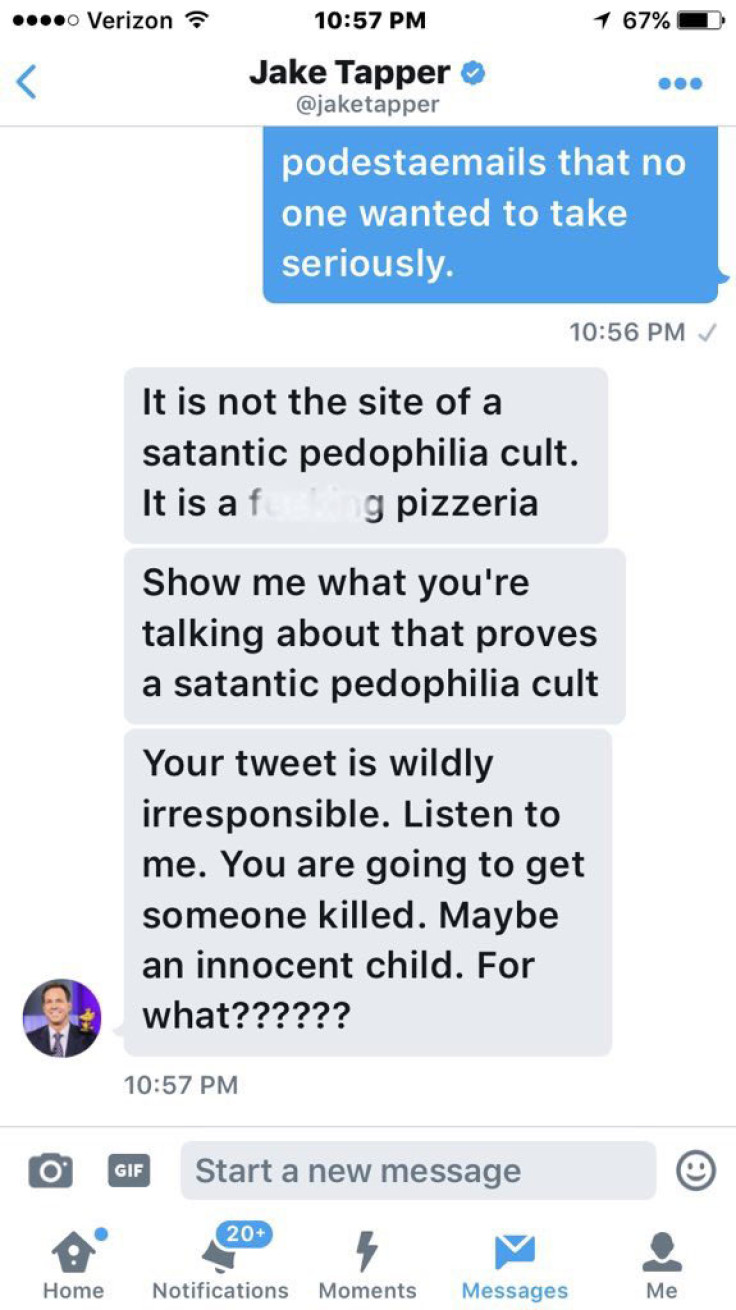 A private exchange between CNN's Jake Tapper and Michael G Flynn.
Screenshot/Twitter
Flynn Jr has been planning to join his father Michael T Flynn, Trump's national security adviser on the staff of the National Security Council and had begun his application for security clearance, according to the New York Times which spoke sources close to the Flynns.
During the conference call Miller did not confirm that Flynn Jr's removal from the team was prompted by his behaviour. However, two Trump transition officials confirmed to the NYT the firing was tied to his Twitter posts.
© Copyright IBTimes 2023. All rights reserved.