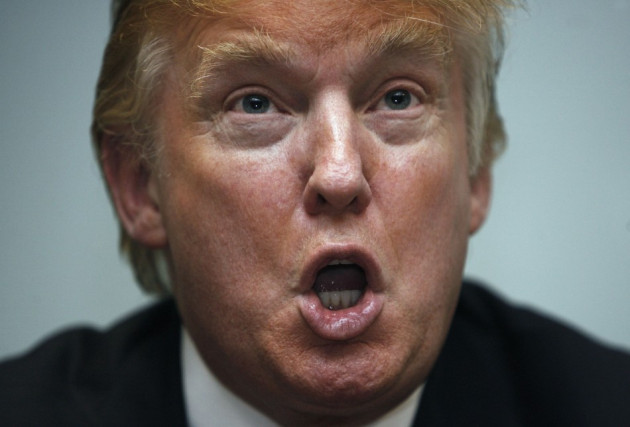 Billionaire Donald Trump's claim that he is to reveal a "bordering on gigantic" story on by-him much hated US President Barack Obama, has triggered an internet frenzy.
Speculations on what is that "something very, very big" that could "possibly" change the US presidential elections result that the flamboyant property magnate claims to have in store, have flooded the web.
Earlier this week, Trump announced he was going to reveal the bombshell at the US morning television show Fox & Friends, but did not give any further detail. It is beleived he will tweet his bombshell claim at 1700 GMT (1200 EST).
His announcement was preceded by the creation of a mysterious website and Twitter account named October Surprise that claimed to have an unspecified "genuine October surprise for one of the presidential candidates," to be revealed this week.
Website Radar Online sought to anticipate the alleged expose asserting that "a man claiming to be a close pal to President Obama during college," was ready to give evidences that the President used and sold cocaine during his times at Columbia University, New York.
However, according to financial author and Trump's co-guest at CNBC talkshow Squawkbox, Douglas Kass, the revelation regards Michelle Obama's past intention to divorce from the future President.
"High above the Alps my Gnome has heard that Donald Trump will announce that he has unearthed divorce papers between the Prez and his wife," Kass tweeted.
Claims about Michelle willing to divorce, after Obama lost a democratic primary race for an Illinois district in 2000, had been already made in a book by author Ed Klein and labelled as rubbish by the presidential couple that married 20 years ago.
As the frenzy mounted, bookmaker company Paddy Power decided to offer its customers odds to bet on what the 'Big' revelation would be.
The divorce rumour is given 13/8, while "evidence of illegal drug use by Obama" pays 7/2. Unlikely "Obama is an alien," "Obama knows the moon landing was staged" are at 250/1, topped by "Obama wears a wig and "Trump: 'I'm your father Obama'" at 500/1.
However, at 14:20 Trump tweeted: "All predictions regarding my 12 O'clock release are totally incorrect. Stay tuned."
Twice-divorced Trump's Republican faith and aversion to Obama, who Trump often refers at as "the worst President ever," are well-known and it is not the first time he claims to have shocking news regarding the president.
"If you like having the world collapse and being told America is leading from behind - vote Obama," Trump tweeted recently.
In 2011 he said to have sent private investigators to the Hawaii - where Obama was born - to find evidences that the Democrat was actually a Kenya native and therefore not qualified to stand as US President.
"They [the investigators] cannot believe what they're finding," Trump then told NBC.
The President released his long form birth-certificate that Trump had claimed to be suspiciously absent, which made clear he was born in Honolulu, Hawaii.
"We do not have time for this kind of silliness. We have better stuff to do. I have got better stuff to do. We have got big problems to solve ... we are not going to be able to solve our problems if we get distracted by side shows and carnival barkers," Obama then said commenting the release.