Trump policy adviser Carter Page slammed American 'hypocrisy' on Russia visit during campaign trail
Washington has 'hypocritical focus on democratisation, inequality, corruption, and regime change,' he said in 2016.
Following reports that the Trump campaign authorised foreign policy adviser Carter Page to travel to Moscow last July prior to the Republican primaries, comments made by Page during the trip have emerged of him slamming the US for its hypocritical approach to corruption in Russia.
"Washington and other western capitals have impeded progress [on international relations] through their often hypocritical focus on ideas such as democratisation, inequality, corruption, and regime change," Page said during a talk held by the New Economic School (NES) at Moscow's world trade centre on 7 July 2016.
Page cited Russian President Vladimir Putin's call in 2012 for US policies toward Russia "based on equality and non-interference in international affairs and respect for mutual interests"
Page asserted that an understanding on the notion of non-interference in Chinese policy, put forward by Chinese leader Xi Jinping, offered a "key insight for American analysts who have very often been confused by the reception that American leaders have received in Russia".
On 7 March, Politico revealed that US President Donald Trump's former campaign manager Corey Lewandowski approved Page's trip to Moscow. Page's supervisor on the Trump campaign's National Security Advisory Committee advised against the trip, which is now caught up in ongoing investigations in Congress and by US law enforcement agencies looking at Russian influence on the 2016 election.
Page had been writing foreign policy papers for the Trump campaign since early March 2016 before the trip was authorised. US President Donald Trump has maintained that no one from his campaign had contact with Russian officials during the 2016 election.
The Trump campaign called Page an informal adviser in August 2016. By 11 January 2017 White House Press Secretary Sean Spicer said: "Carter Page is an individual who the president does not know and was put on notice months ago by the campaign."
Page explained to CNN anchor Anderson Cooper, on 5 March, that "part of the reason why I stepped back is I wanted to prevent continuing to be a distraction."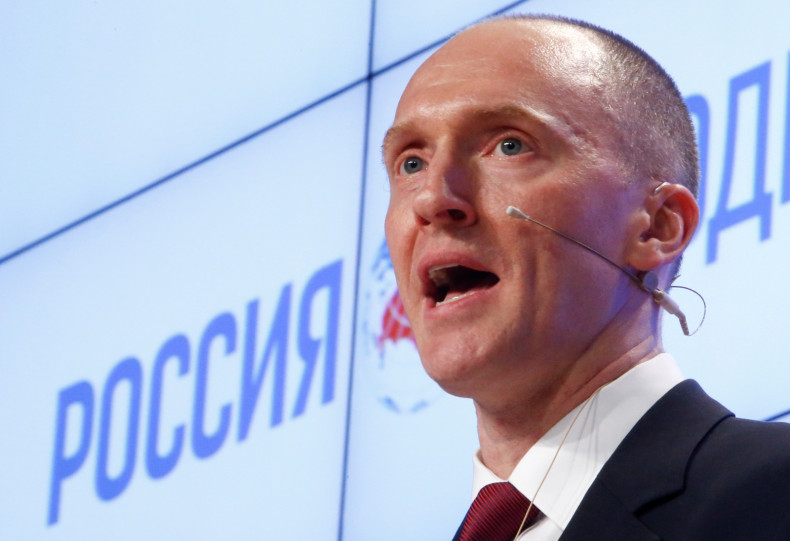 Page lived in Moscow for three years between 2004 and 2007 while advising Russian state-backed natural gas company Gazprom as an employee of investment bank Merrill Lynch. The natural gas company has the exclusive right to export natural gas from Russia.
"Recent efforts by Western scholars and leaders to denigrate public leaders from the region have unnecessarily perpetuated many Cold War tendencies by deepening suspicions from that bygone era," Page said during his talk in July, making allusions to Putin's frayed relationship with President Barack Obama.
America placed economic sanctions on Russia following its annexation of the Ukrainian region called Crimea in 2014. Page has been openly critical of efforts to bring Ukraine into the European sphere of influence and of suggestions the country could eventually join the EU.
In 2013, a revolution in Ukraine overthrew its former leader Viktor Yanukovych who was blamed for "massive" corruption and ties to Russia's Putin. Trump campaign adviser Paul Manafort was a lobbyist on behalf of Yanukovych.
"Today a broad western consensus has defined societies from this region as largely state controlled ridden with corruption or both," Page said in July. "Although that may in some ways be partially true in many countries, including the United States, recent history has exposed opportunities to build upon mutual interests in ways that are often hidden by this type of intolerance."
He cited the "corrupt tendencies ... found in western societies" in the American cases of insider trading by the defunct company Enron and pyramid scheme investor Bernie Maddoff as examples.
"The US and other western powers have sought to cure the perceived political shortcomings of central Asian states," he said, while "Beijing has displayed a high level of tolerance in this region."