The Saudi Arabian government revealed evidence pointing at Iran's involvement in the attacks on Aramco oil plants. Material evidence involved parts of Iranian drones and missiles. President of the United States of America, Donald Trump, tweeted that the US will be increasing sanctions on Iran. However, Iran has consistently denied any involvement in the attacks.
Delegates from various countries and international media attended a press conference held by Saudi Arabia at 2:30 PM GMT (3:30 PM BST). Those in attendance could easily see some of the evidence collected by the investigative team. Debris collected from the plants were identified as parts of Iranian Unmanned aerial vehicles (UAV) and cruise missiles.
The possibility of Yemen's involvement has been ruled out based on the distance of the attack site from Yemen and the kind of technology used in the attack. Saudi military spokesperson, Turki al-Maliki, said that they have various methods including the analysis of satellite images to determine the source of the attack. Houthi assumed responsibility for the attacks. Ruling out Yemen as the source points fingers at Iran and Iraq as the base of the attacks.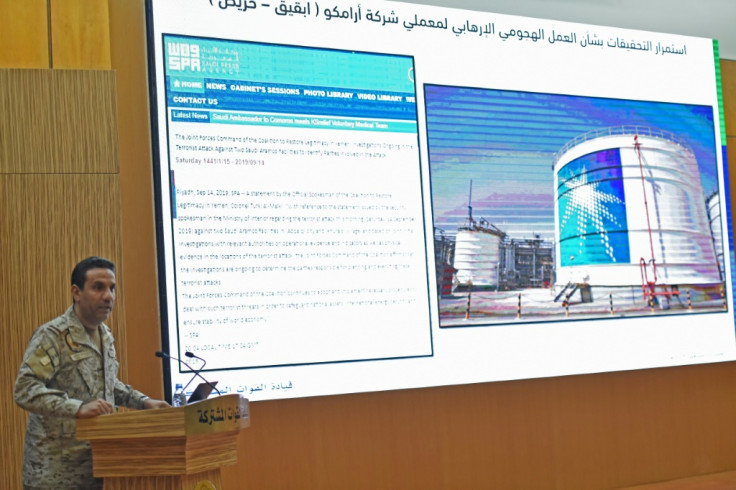 Sky News' Mark Stone asked why Saudi was unable to defend against the attacks on the oil plants. Maliki pointed out that the Saudi defenses have already thwarted 232 ballistic missiles from hitting Saudi soil. The question of why Saudi had not taken any military action already if they had been attacked so many times was asked. Maliki responded that the Saudi government is gathering further evidence before they can take the matter to the United Nations.
Trump has jumped the gun and started actions against Iran. He tweeted that he has asked the Secretary of Treasury to increase sanctions on Iran.
The move is to increase economic pressure on the Iranian government. Trump's Secretary of State Mike Pompeo's meeting with Prince Mohammad in Jeddah will decide the involvement of the US government.
Iran has claimed that the blaming them for the attack is a tactic used by the US to discredit the nation. Iran fears that by using the attack as an excuse, the US will start a war with Iran. The US might be trying to influence the UN Security Council to respond to the attacks. However, Iran's alliance with Russia and China might render US efforts futile.