Trump's education secretary nominee says it is too 'premature' to commit to sexual assault guidance
Democrats expressed concern that Betsy DeVos lacks the experience to run education department.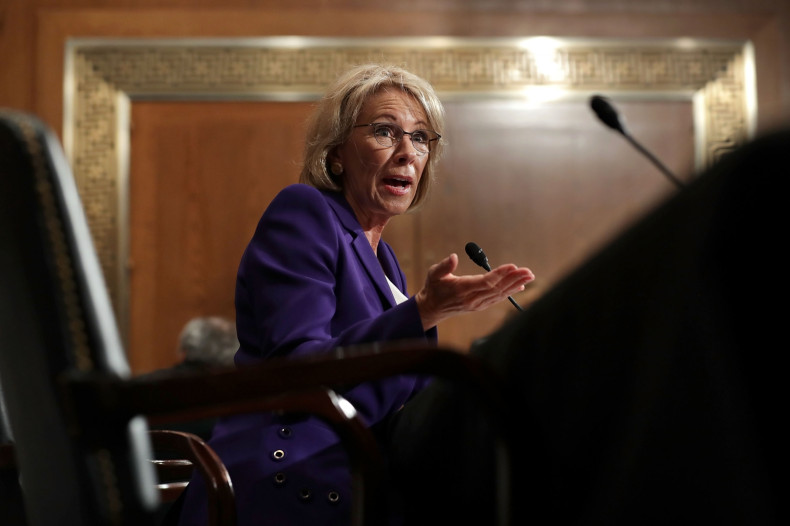 Donald Trump's nominee for education secretary would not say whether she would commit to guidance on campus sexual assault issued under the Obama administration while she was answering questions at her confirmation hearing.
Appearing before the Senate committee on health, education, labor and pensions, Betsy DeVos said "it would be premature" to commit to the guidance, the Washington Post reported. The billionaire businesswoman faced tough questions at her hearing, with Democrats complaining that they did not have enough time properly to scrutinise the possible cabinet member.
The education department under Obama interpreted federal anti-sex discrimination law Title IX to mean that educational institutions must help to protect trans students and combat campus sexual assault, reported the Guardian.
While being questioned by Senator Bernie Sanders, DeVos said that it "is possible" that her family had given around $200m to the Republican party over the years. Sanders followed up by questioning whether DeVos thought she would be "sitting here today" if her family had not made the contributions.
"As a matter of fact, I do think there would be that possibility," DeVos replied, "I've worked very hard on behalf of parents and children for the last almost 30 years to be a voice for students and to empower parents to make decisions on behalf of their children."
Sanders then pressed DeVos on whether she would work to make public college and university tuition free. "There's nothing in life that's truly free," DeVos replied.
Democrats also claimed DeVos is too inexperienced for the position. "There is no precedent for a [department of education] secretary with the lack of experience in public education that Betsy DeVos has," tweeted Senator Elizabeth Warren, a member of the committee. She later added: "Secretaries have served as teachers, school system leaders, governors – and Betsy DeVos has held no such position."
Senator Al Franken asked DeVos whether she felt school assessments should be used to measure proficiency or growth, describing it as "a subject that has been debated in the education community for years". When DeVos seemed to falter on the question, Franken told her: "It surprises me you don't know this issue."
Concerns were also raised that DeVos and her large financial interests had not been properly vetted by the office of government ethics before the hearing took place. Democrats claimed that they were not being given enough time to get all the answers they wanted from DeVos. "I think we're selling our kids short by not being able to ask follow-up questions," said Franken.