US President Donald Trump's nominee for the Environmental Protection Agency (EPA) Scott Pruitt was ordered by Oklahoma County District Judge Aletia Haynes Timmons on Thursday (16 February) to hand over at least 3,000 requested emails to the watchdog Centre for Media and Democracy (CMD).
The decision by the judge comes just a day ahead of the Oklahoma Attorney General's confirmation vote to head the EPA. Judge Timmons asked Pruitt's office to release the mails either to the court or to the advocacy group by Tuesday (21 February).
The CMD has alleged that Pruitt had violated the Oklahoma Open Records Act by refusing to release official documents to the public, which the advocacy group had been requesting since 2015.
Timmons said that "there was an abject failure to provide prompt and reasonable access to documents requested".
According to the group's general counsel Arn Pearson, it had requested for communications between Pruitt's office and Koch industries, mining and drilling companies and the Republican Attorneys General Association, chaired by Pruitt.
Pearson added: "Those are the types of things we're looking for that go toward his conflicts of interest and whether he'll be carrying out the agenda of fossil fuel companies and not carrying out the EPA's mandate."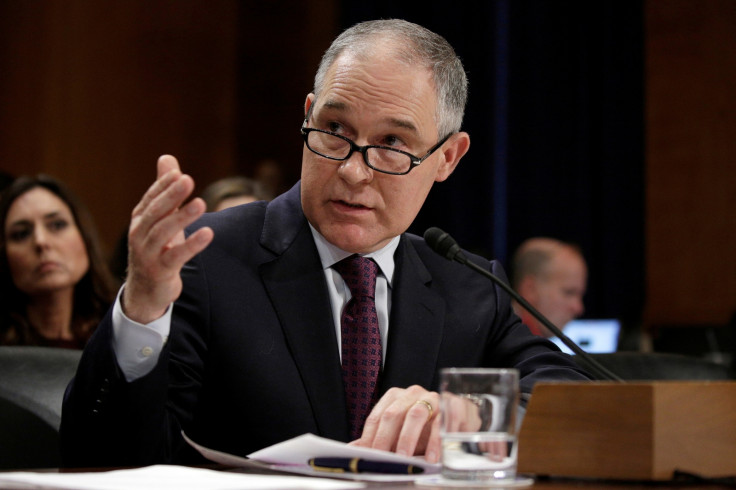 During the time of the hearing on Thursday, only 411 emails out of more than 3,000 sought by the CMD were provided by the attorney general's office. The 411 emails were only released in mid-February despite the group filing its request almost two years ago.
"They said they had a first-come, first-served system and kept saying they had a huge request ahead of ours. We were stonewalled for a little over two years and decided to file suit on February 7," CMD said.
However, Pruitt's press secretary Lincoln Ferguson maintained that the office had not done anything wrong. "The Office of Attorney General remains committed to following the letter and spirit of the Open Records Act. In light of that, we are reviewing all of our options in order to ensure fairness to all requestors rather than elevating the importance of some requests over others," he said. ​​
Democrats in the Senate on Thursday said that the judge's ruling is good enough reason to postpone the vote until they could read all the emails.
Senator Richard Blumenthal, (D-Connecticut) said on the Senate floor: "This development really requires a delay in this vote. We have an obligation in advising and consenting to be as fully informed as possible."
According to NBC News, Pruitt is expected to cruise through the confirmation vote on Friday. Democrats in the Senate are in the minority and only one Republican Senator Susan Collins (R-Maine) has said that she will not support his candidacy.