Donald Trump's official recognition of Jerusalem as the Israeli capital was met with worldwide dismay and sparked violence in the Gaza Strip and across the West Bank.
The US president's announcement was also met with fury in other parts of the world. In Amsterdam, a man waving a Palestinian flag vandalised a kosher restaurant on Thursday (7 November).
He smashed the windows in of the restaurant, while reportedly shouting "Palestine" and "Allahu Akbar".
The shocking incident was captured on video. The man is seen kicking down the restaurant's door after breaking the glass with a baton. He is shown entering the restaurant, which was closed. Shorly afterwards, he emerges from the restaurant with an Israeli flag.
At this point, two police officers tackle the man to the ground and arrest him.
The organisation NIK, which represents Jewish communities in the Netherlands, described the incident as an "act of terror." "This crime affects the entire Jewish community," the organisation told Dutch broadcaster NOS.
Herman Loonstein of the Jewish Federation in the Netherlands also described the incident as a "terrorist attack, carried out by a man whose behaviour was that of a terrorist".
The Central Jewish Consultation condemned the act and the fact that "certain people in our society take out their frustration regarding matters in the Middle East against Jews living here".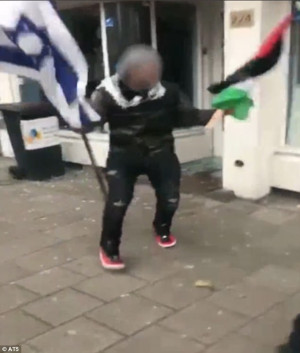 Violence broke out in the Gaza strip and West Bank shortly after Trump's announcement on Wednesday (6 November).
During protests at least 31 Palestinians were injured. Hundreds of Palestinians took to the streets to protest against Trump's announcement. Two rockets were fired towards Israel but fell short, the Israeli army said.
Israeli soldiers fired ammunition at Palestinians, who threw rocks at them across the border fence, Reuters reported.
World leaders have condemned Trump's decision to move the US embassy from Tel Aviv to Jerusalem after formally recognising the contested city as the capital of Israel.
Pope Francis said he was "profoundly concerned" about recent developments, describing Jerusalem as a city with a status quo that everyone respects.
Turkish President Recep Tayyip Erdogan warned that the move would "play into the hands of terror groups" and said Turkey could respond by cutting diplomatic ties with Israel.