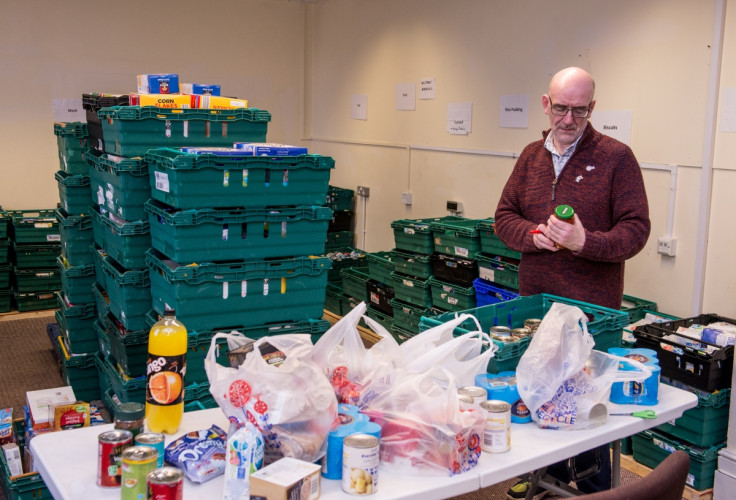 Food bank use has hit a record high in 2015/16, with more than 1.1 million emergency food parcels being handed out across the Trussell Trust's UK network. The charity said the figure was up compared to a year before when more than one million food supplies were provided.
"One million three-day food supplies given out by our food banks every year is one million too many. This must not become the new normal," said chief executive of The Trussell Trust, David McAuley.
"Reducing UK hunger will require a collective effort from the voluntary sector, government, Department for Work and Pensions, businesses and the public, and The Trussell Trust is keen to work with all these groups to find solutions that stop so many people needing food banks in future."
The charity claimed, using internal data, that benefit delays and changes were the biggest cause of food bank use, accounting for 42% of all referrals (28% benefit delay; 14% changes), which is a reduction on last year's 44%.

Trussell Trust food banks report people are still being impacted by sanctions and a mix of delays and changes to various benefits including Jobseeker's Allowance (JSA), Employment Support Allowance (ESA) and Personal Independence Payments (PIP).
"It is a national scandal that food bank usage is continuing to rise," said Kerry McCarthy, Labour's shadow environment, food and rural affairs secretary.
"Food banks have become a truly shameful symbol of a Tory government that is failing to stand up for ordinary people. While those at the top are given tax breaks others are struggling to get by.
"Emergency food aid should remain just that – food banks can never be allowed to become a permanent feature of British society."
The findings coincide with a report from the All-Party Parliamentary Group on Hunger, which warned that a rising number of children are starting their first and final years of primary school underweight, and a rising number of infants and pregnant mothers are anaemic.
The group's chairman, Frank Field, said: "Something very troubling is happening and there are at least two forces operating. One is the breakdown in parenting, and the second is an increase in the numbers on a low income.
"It's a tragedy if one of these strikes a child, but it's an unbounded horror if a child is hit by both. How can the world's fifth richest nation not know the extent of physical damage caused to its own children by a lack of food?"
A spokesperson for the Department for Work and Pensions said: "Reasons for food bank use are complex so it is misleading to link them to any one thing.
"This government is determined to move to a higher wage society, introducing the new National Living Wage that will benefit over one million workers directly this year, and we're also spending £80bn ($113bn) on working age benefits to ensure a strong safety net for those who need it most.
"The vast majority of benefits are processed on time and the number of sanctions have actually gone down."