One person has died and nine others remain missing after an apartment building collapsed in the Canary Island of Tenerife. A woman of unknown nationality, aged about 70, was pulled from the rubble of the four-storey building in the town of Los Cristianos, a popular tourist spot on the southern coast of Tenerife.
Spain's emergency services confirmed that at least three others had been injured in the incident, with one 57-year-old woman suffering serious trauma to her upper body. A 28-year-old Italian man suffered an arm injury, while a 55-year-old woman had an anxiety attack and was treated at the scene, according to Sky News.
It is unclear how many people were in the 21-apartment building when it collapsed at about 9.30am local time (8.30am GMT) on 14 April, or if any Britons were involved.
"The building had 28 occupants of which nine still have not been found," Julian Mena, mayor of nearby Arona, was quoted as saying by the AFP news agency.
'Total chaos'
The cause of the collapse is not yet known but eyewitness accounts say there was a loud sound before the building came down, prompting speculation of a gas leak. Rescue workers with dogs were at the scene late on 14 April searching for survivors.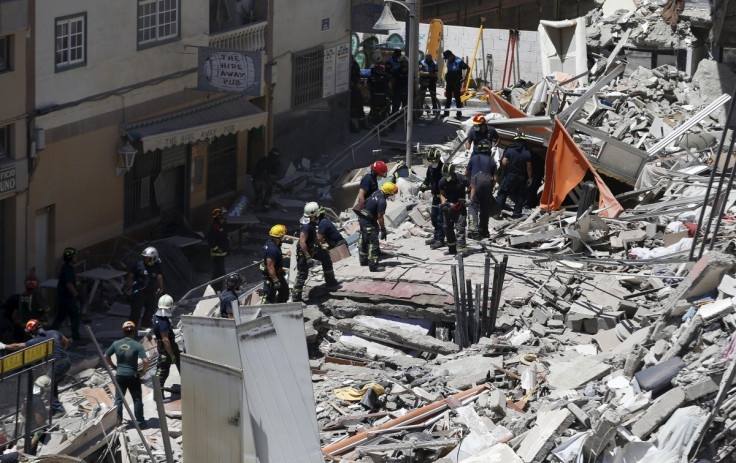 The Sun newspaper said the building is close to a tapas bar popular with British tourists. Witness Tino Ponte told the paper: "Everyone was covered in dust. People were running all over the place and some were crying. Everyone appeared desperate and terrified.
"When I reached the scene a few minutes after the collapse, it looked like a bomb had gone off. People thought at first that it had been a terrorist attack. It was total chaos."
A Foreign Office spokeswoman said: "We are in contact with local authorities and urgently seeking more information following a building collapse in Tenerife."