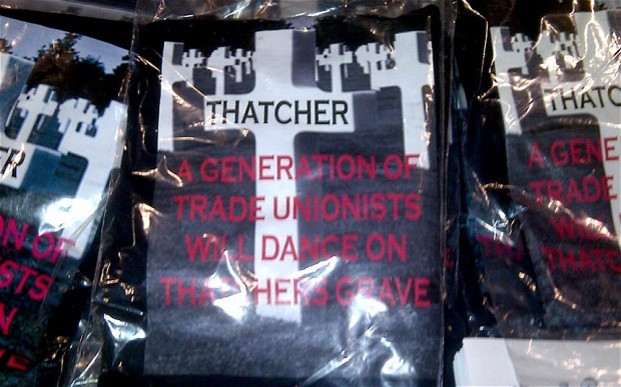 A T-shirt relishing the prospect of Margaret Thatcher's death has gone on sale at the annual conference of the Trades Union Congress (TUC) in Brighton.
The black garment depicts a bone-white cross in a graveyard emblazoned with the word "Thatcher" above the legend, "A generation of trade unionists will dance on Thatcher's grave."
The shirts, created by the Derbyshire Unemployed Workers' Centre (DUWC), cost £10 each. A portion of the proceeds from each sale will go to running DUWC's benefits advice centre in Chesterfield.
A TUC spokesman bluntly refused to distance his organisation from the garment.
Labour leader Ed Miliband was pictured shaking hands with a man wearing one of the T-shirts - an image that has been strongly criticised.
Mixed reaction
Several Conservative and Labour politicians condemned the item with Tory MP Priti Patel saying she was "appalled".
"This is typical of the TUC, attacking those who have successfully fought for jobs and the creation of economic prosperity in Great Britain. With a declining membership, this is a desperate and disrespectful act by the TUC."
Labour MP Toby Perkins, who represents Chesterfield, said: "I certainly won't be buying 1. Thatcher's legacy for North Derbyshire was a disgusting one but no need to get in the gutter too."
DUWC spokesman Colin Hampton was unrepentant, however.
"I agree it's not to everyone's taste but a lot of people want to buy the t-shirts. I hope she lives long," he said.
"Everyone is going to die at some point and when she dies people will be saying what a fantastic person and great leader she was. But in coalmining areas and for people who fell unemployed, that wasn't the case.
"Thatcher gave succour to General Pinochet, who tortured trade unionists, and she cheered deaths on the Belgrano [the Argentine battleship sunk by British forces during the Falklands war]. So you could say what goes around comes around."