She originally denied the claims but now X Factor judge Tulisa Contostavlos has admitted that it is her in the 'fake' sex tape circulating online.
In a clip posted on YouTube, the 23-year-old singer apologised to fans for any offence caused by the video and said: "As you can imagine, I am devastated, heartbroken. I have been in bits for the last few days."
Contostavlos found herself at the centre of a sex tape scandal when a seven-minute clip of a young woman performing a sex act with a mystery man emerged online.
The explicit footage, which was made before her X Factor makeover, quickly made headlines across the globe and she faced a backlash from shocked fans.
In a personal five-minute admission to fans, the former N-Dubz singer confirmed that it was indeed her and her former boyfriend garage MC Justin 'Ultra' Edwards in the salacious video.
Contostavlos blamed Edwards for leaking the video and said she was devastated at the betrayal.
She said: "When you share an intimate moment with someone that you love, you care about and you trust, you never imagine for one minute that that footage may at any point be shared with the rest of the UK or the rest of the people around the world.
"As you can imagine, it's a pretty tough time for me, but I don't feel that I should be the one to take the heat for it, or the stick. This was something that he took upon himself to put online and he is now sitting in silence pretending that it's not him."
Displaying two pictures of her and Edwards, she said that they had been in a relationship at the time that the video was made.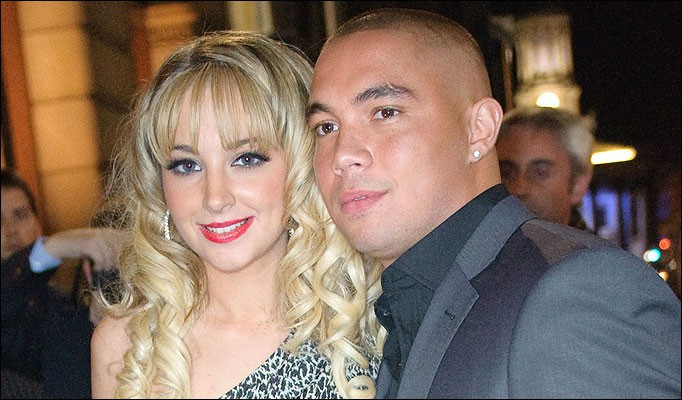 "Justin is someone who I was seeing from the age of 17 off and on for many years," she explained.
"I'm not going to sit here and be violated or be taken advantage of by anyone. Obviously, I also know that a lot of people online, fans or the general public, will have made up their own assumptions or opinions on the situation which I can imagine, which is why I need to set the record straight.
"This is someone that I loved, that I trusted, that I feel deeply betrayed by. I am sure that everyone at home has had intimate moments with someone they cared about and never expected at any point that they would go and share it with the rest of the world."
She ended the emotional monologue by vowing that it would never happen again. "As much as this is nothing to do with me and it's not my fault and I do feel victimised, I apologise to anyone that this has offended. I know for a fact that it will never happen again."
The tape first appeared on a celebrity website Pappzd on Monday and caused a social media frenzy.
Contostavlos soon called in the help of her legal team to obtain an injunction banning anyone from using, publishing, communicating or disclosing all or any part of the film.