Tulsi Gabbard leaves questions marks over Bashar Assad meeting during secret Syria trip
The congresswoman from Hawaii will not disclose who is paying for the unannounced trip.
Democrat Tulsi Gabbard visited Damascus in a move her office described as a "fact-finding trip...to promote and work for peace," amid claims she met with Syrian President Bashar al-Assad.
Hawaii congresswoman Gabbard, who has been outspoken in her criticism of the Obama administration's handling of the Syrian crisis, will not release details of her trip until she returns, her office said.
According to The Washington Post, Gabbard's office cited security reasons for refusing to reveal whether she met with Assad. "She felt it was important to meet with a number of individuals and groups including religious leaders, humanitarian workers, refugees and government and community leaders," Gabbard's spokeswoman, Emily Latimer said in a statement.
Latimer added that the trip was not funded by taxpayers and it was approved but the House Ethics Committee. She did not, however, give the customary advanced warning to Democratic or Republican leadership offices, staffers said. It is not clear when Gabbard will be returning to the US from the trip.
A member of the House Armed Services and Foreign Affairs committees, Gabbard is opposed to US military intervention in Syria, Politico noted. The congresswoman has even accused President Obama of funnelling money to the Islamic State (Isis) and al-Qaeda-linked organisations in Syria.
The outspoken Democrat supported Bernie Sanders during the 2016 election and was the first Democrat to meet with President-elect Donald Trump. She discussed her concerns on US interventionism when she met with Trump in November.
"I felt it is important to take the opportunity to meet the President-elect now before the drumbeats of war that neocons have been beating drag us into an escalation of the war to overthrow the Syrian government," she said at the time.
The Washington Post reported that last month, Gabbard introduced the Stop Arming Terrorists Act, which would prohibit the US government from giving money or other support to Isis or Jabhat Fatah al-Sham, an al-Qaeda affiliate formerly known as Jabhat al-Nusra.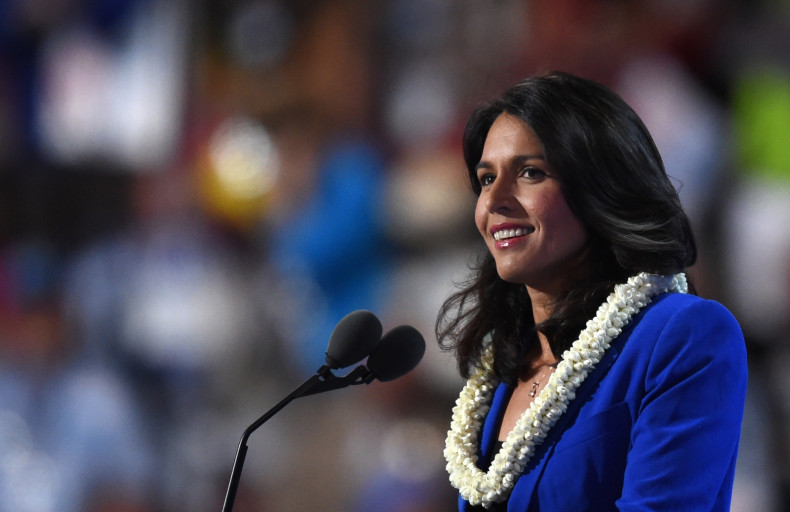 "If you or I gave money, weapons or support to al-Qaeda or Isis, we would be thrown in jail," she said as she announced the bill. "Yet the US government has been violating this law for years, quietly supporting allies and partners of al-Qaeda, Isil...and other terrorist groups with money, weapons, and intelligence support, in their fight to overthrow the Syrian government."
Gabbard's secret trip to Syria was first reported by Foreign Policy.