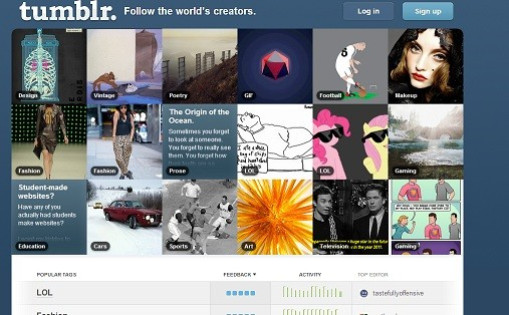 Tumblr, the popular microblogging platform, has been attacked with a cyber worm, with an anti-blogging hacker group claiming responsibility.
The worm defaced the pages of some of the 83.2 million blogs which appear on the site with an explicit message, claiming the site is filled with some of the most "worthless, contrived, bourgeoisie" content on the web.
Hacker group the Gay N****r Association of America (GNAA), has claimed responsibilty for the hack, saying it was engaged in an "anti-blogging" campaign.
The infected post, which greated its readers with "dear Tumblr users" said: "This is in response to the seemingly pandemic growth and worldwide propogation of the most f*****g worthless, contrived, bourgeoisie, self-congratulating and decadent bullshit the internet ever had the fortune of faciliating."
High-profile Tumblr blogs defaced by the worm were said to include those of technology websites CNET and The Verge, as well as news site USA Today.
Tumblr said: "There is a viral post circulating on Tumblr which begins 'Dearest 'Tumblr' users'. If you have viewed this post, please log out of all browsers that may be using Tumblr immediately."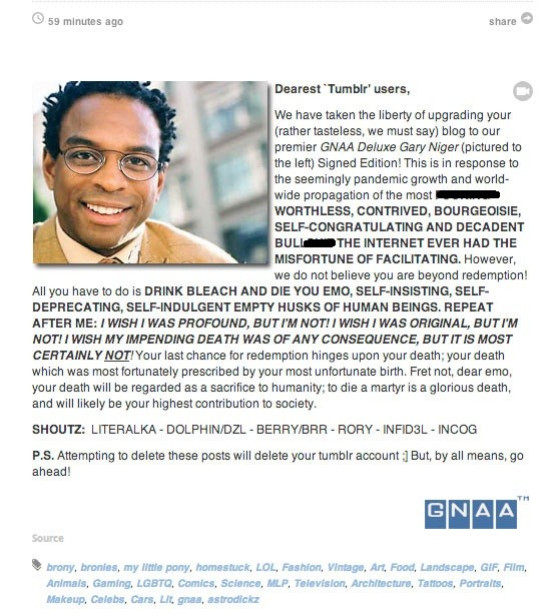 GNAA spokesman Leon Kaiser told the Guardian: "This was just another part of our 'anti-blogging' campaign. GNAA's stance on blogging in general has always been a negative one: in short, blogging is lowering journalistic standards to the point where the number of friends a murderer has on Facebook has become news.
"Tumblr is a blogging website whose employees we have found, time and time again, put the safety of their users second to their revenue. Instead of hiring competent, dedicated staff, they hire part-time programmers who can't even defend against the most basic of security issues, such as XSS.
"They don't even throttle (or the threshold is ridiculously high) the number of posts per minute a user is allowed to make. Blogging services everywhere need to step up and hire people who know what they're doing."
The company said the issue was resolved within hours after the worm affected several thousand users.