Home secretary Theresa May has laid flowers on the beach in Tunisia where up to 30 Britons are thought to have been gunned down by Isis-inspired extremist Seifeddine Rezgui.
May and foreign office minister Tobias Ellwood visited the Sousse beach where 38 people were killed when Rezgui opened fire on tourists with a Kalashnikov rifle and threw grenades at them on Friday (26 June).
The pair walked through the hotel were visitors had been staying before the terrorist attack and are expected to meet with their Tunisian counterparts later today (Monday, 29 June).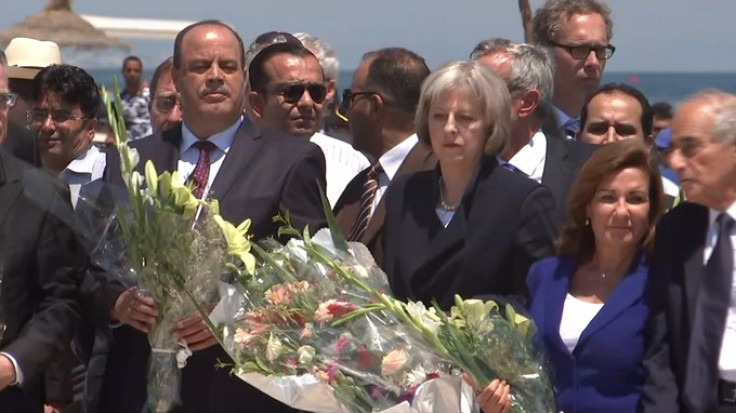 Authorities have delayed naming the victims of the atrocity because many were not carrying identification when they went to the beach. It means families of Britons caught up in the incident face an anxious wait to see if their loved ones were killed.
May said "every effort" was being made to make sure families received 100% accurate information.
The Met Police has already deployed staff to Tunisia to assist in the aftermath while the RAF is preparing to fly out to the north African country to help evacuate casualties.
Britons killed in Tunisia beach attacks
Carly Lovett, 24, from Gainsborough in Lincolnshire
Sue Davey and her partner Scott Chalkley, both in their 40s and from Tamworth
Adrian Evans, his father, 78-year-old Patrick Evans and nephew Joel Richards, 19, from Wednesbury, West Midlands
Claire Windass, 54, from Hull, was on the beach with her husband, who survived
Jim and Ann McQuire, from Cumbernauld, North Lanarkshire
Trudy Jones, 52, from Blackwood, in Caerphilly county
Stephen Mellor, 59, from Bodmin in Cornwall, whose death was confirmed by his injured wife Cheryl
Bruce Wilkinson, 72, from Goole, East Yorkshire
Lisa Burbidge, in her 60s, from Whickham, Gateshead