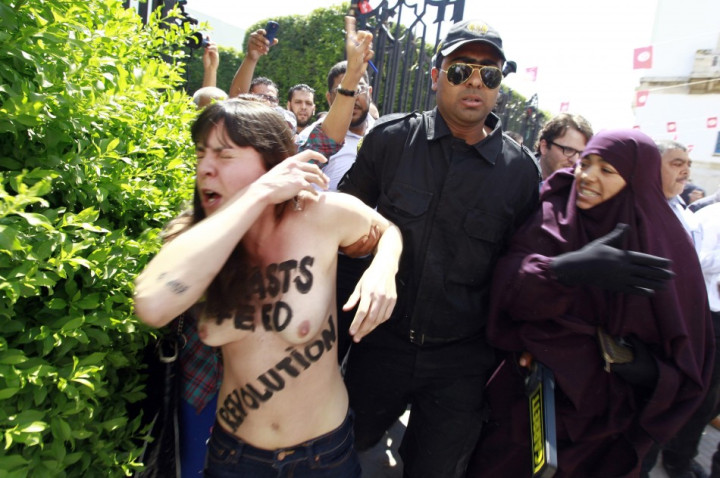 Tunisia has freed three European radical Femen activists - one German and two French - who staged a topless protest in front of a courthouse in support of Amina Tyler, the Tunisian activist arrested in May.
The three activists argued that there was nothing sexual or offensive about their stunt, and apologised during their appeal hearing.
The release comes ahead of a planned visit by French president Francois Hollande early next month. The decision to jail the three European women upset France, Germany and Tunisia's main economic ally the European Union.
The women were convicted and sentenced to four months in prison for public indecency, offending public morals and threatening public order after the 29 May protest.
"I didn't think it was going to shock Tunisians to that extent. Given the consequences, I would never do it again. We want to return to our country and our loved ones," French activist Pauline Hillier said at Wednesday's hearing.
Ivan Terel, a French lawyer who represented the women, said their message was misunderstood and they were fighting "for the rights of women wherever they are threatened."
Amina, 19, is in custody and will face trial for being in possession of pepper spray.
She was arrested in the central city of Kairouan as she protested against Salafist movement Ansar al-Sharia, which was planning to hold a congress in defiance of a government ban.
Videos posted online showed Tyler painting the word "Femen" on a wall near the Karouan mosque.
Before her arrest, Tyler went missing in April for the second time after receiving death threats for posing topless with the words "f**k your morals" emblazoned across her chest, echoing protests staged by Femen.