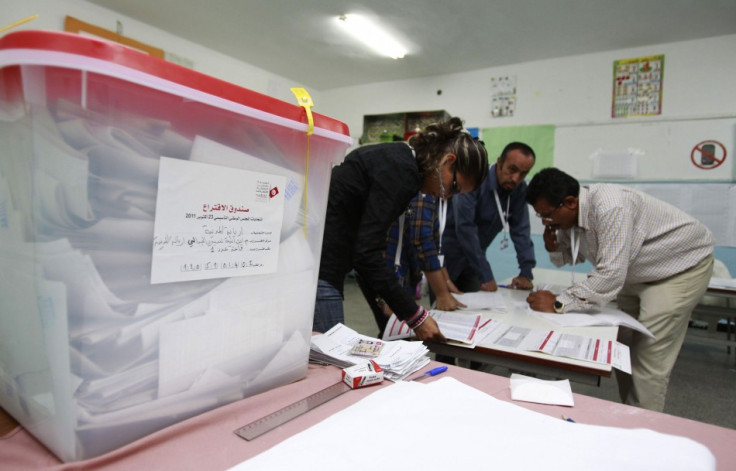 The first elections in Tunisia since the revolution, held Sunday, have been hailed as a success after an exceptionally high turnout proved Tunisians are determined to use their new freedoms.
While officials first announced the turnout at 70 per cent a few hours before the voting booths closed, by Sunday evening the electoral commission's secretary-general, Boubaker Bethabet, said more than 90 per cent of some 4.1 million citizens who registered ahead of the poll had cast their vote.
Figures concerning the other 3.1 million voters who had not registered but still had the right to vote were not yet available.
Ennahda, a moderate Islamist party banned under ousted President Zine al-Abedine Ben Ali, is now expected to emerge as the strongest single party when results are announced on Tuesday, with some observers predicting it will win as much as 40 per cent.
The voters were choosing an assembly that will appoint an interim president, draft a constitution and govern for a year.
As none of the parties is set to win an overall majority, the country is likely to still face political uncertainty for some time.
Voters had 110 parties to choose from as well as independents, represented by more than 11,000 candidates for the 218-seat parliament. Each list had to be 50 per cent female.
The country, however, still appear to be divided along secular and religious lines. While Ennahda's supporters voted en masse, its detractors shouted at the party's leader, Rachid Ghannouchi, as he was casting his vote, calling him a terrorist and saying "Degage," French for "Go away" and "You are a terrorist and an assassin! Go back to London!"
Tunisians also showed they were not willing to let politicians abuse their powers as they stopped Ghannouchi, after spotting him trying to head straight into the polling booth, before shouting "The queue, the queue - democracy starts here."
Ghannouchi lived in exile in London for 22 years, only coming back to Tunisia after the overthrow of Ben Ali in January.
Ennahda, or "Renaissance" was officially founded in 1989, and was banned in 1991.
While Ghannouchi is now presenting himself as a moderate, critics of the party accuse it of being behind the bombing of tourist hotels in the 1980s. In 1991 its operatives attacked the headquarters of Ben Ali's party, killing one person and throwing acid in the faces of several others.
Throughout the years the Ben Ali regime repeatedly jailed leaders of the party, which explains how the party, for many, stands in opposition to the past regime and what it represented.
Many Tunisians still complain about corruption and say Ben Ali's close circle of advisers are trying to return to political life.
Ennahda maintains ties with the Muslim Brotherhood, but prefers to compare itself with Turkey's ruling AK party, as it insists it does not intend to impose Sharia law.
As many fear a return to strict Islamic rule after the revolution, Ghannouchi insist he supports a "moderate" form of Sharia that would combine "democracy, which is a Western product, with Islam, which is our own heritage."
"Sharia is not something that is alien or strange to our societies. ... For example, in Britain we have Islamic finance and Islamic banking, and Islamic family law can be applied for marriage and divorce," he said. "We don't see Sharia interfering in people's private lives or in their freedom to wear what they want. Personal freedom is very important for us."
Tunisia is known to be the most gender-equal country in the Arab world and was the first Arab country to allow women to vote, and later banned polygamy, legalized abortion and made marriage condition on female consent.
But it seems that years of repression of religious parties by Ben Ali has led to a revival of such inclinations.
While Ennahda is set to emerge as the largest single party, most forecasts predict it will not have enough seats for a majority, which will force it to seek coalition but in return dilute its influence.
Faced with their own future, Tunisians will now have to redefine their identity, for so long based on the policies imposed by Ben Ali, and build a country relaying on democratic institutions while retaining Tunisia's own sense of cultural identity.