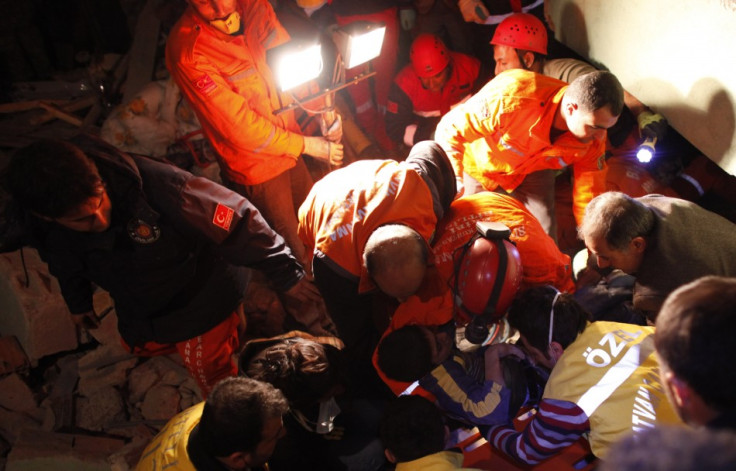 Rescue teams were on a race against time Monday in Turkey, as efforts to find people trapped under rubble continued throughout the night, after the earthquake that hit Turkey's eastern Van region on Sunday killed more than 200 people.
Interior Minister Idris Naim Sahin said 117 people were killed in the district of Ercis, another 100 died in Van while some 740 people were injured, while hundreds of people are still missing.
Another 1,000 people were also reportedly injured in the 7.2 magnitude quake, with large numbers of casualties reported in the town of Ercis, where dozens of buildings fell.
Hundreds of rescue teams continued to search for survivors throughout the night as aid groups set up tents, file hospitals and kitchen to assist thousands of people left homeless by the disaster, forced to sleep outside despite freezing conditions.
However, survivors criticised the lack of heavy machinery to remove chunks of cement floors that had pancaked on to each other, the Associated Press reported.
Serious damage and casualties were also reported in the district of Celebibag, near Ercis.
Following the quake, electricity and telephones lines were cut, while the authorities have decided to cut gas in certain areas to avoid the risk of fire.
More rescue search teams are also still being sent to the earthquake-hit area, and military aircraft were being deployed to help with the rescue and relief efforts, BBC World News reported.
Countries including United States, Britain, Germany, Poland, Hungary, Switzerland and Greece offered their help within hours of the earthquake.
Officials from Israel also said they were prepared to offer the Turkish government "any aid they might need," despite tense relationship between the two countries, which saw Turkey downgrade its diplomatic ties.
Ercis's mayor, Zulfikar Arapoglu, also issued an appeal for aid on NTV Television.
"There are so many dead. Several buildings have collapsed, there is too much destruction," he said. "We need urgent aid. We need medics."
"We can hear the screams of people who are under the rubble, in agony," he said. "Student dormitories, hotels and gas stations have collapsed."
The airport at Van was also damaged, with planes being diverted to nearby cities and while relief teams were forced to travel by road.
Turkish Prime Minister Recep Tayipp Erdogan has visited the devastated area, warning the city of Ercis has been particularly affected, as up to 80 buildings, collapsed.
Erdogan also thanked other countries for their help but insisted Turkey could cope with the disaster on its own.
The earthquake struck at 13:41 (10:41 GMT) at a depth of 20km (12 miles), with its epicentre 16km northeast of Van in eastern Turkey, the U.S. Geological Survey said.
A series of powerful aftershocks were also reported in the north of Van, including two of magnitude 5.6 soon after the quake and one of 6.0 late on Sunday.
Turkey's seismology institute said it estimated the casualty count between 500 and 1,000.
"We estimate around 1,000 buildings are damaged and our estimate is for hundreds of lives lost. It could be 500 or 1,000," said Mustafa Erdik, the general manager of the Kandilli Observatory.
Turkey is particularly vulnerable to earthquakes as it stands on major geological fault lines and the country has already been hit by strong earthquakes in the past.
In 1999 two earthquakes with a magnitude of more than 7 killed almost 20,000 people in the northwest of the country.