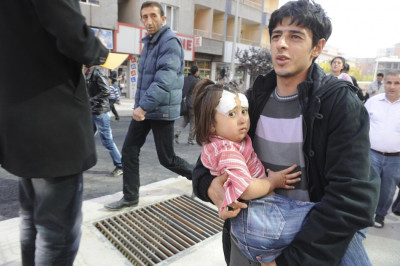 At least 138 people have been killed and 350 people have been hurt in the aftermath of a 7.2 magnitude earthquake in Turkey, said the government on Monday.
The 29-second earthquake, which has injured more than 1,000 people and with many still missing, the country continues to reel over aftershocks. The monitors have recorded over a hundred aftershocks, received in less than ten hours, one of which was at 6.0 magnitude strong enough to create more damages.
The Turkish people are in a state of shock as collapsed buildings, continuous aftershocks and felled power lines have paralyzed their lives. Survivors and emergency rescue workers battled to pull people buried under debris in Van.
The Turkey Prime Minister, Recep Tayyip Erdoğan, flew to the hardest-hit area to oversee rescue efforts. The Prime Ministry Disaster and Emergency Management Directorate (AFAD) said in a statement released after the earthquake that the tremor was strong and caused loss of life and damage to property. The deputy Prime Minister, Beşir Atalay, told reporters almost 10 buildings had collapsed in Van city center and 25 buildings had collapsed in Erciş.
The U.S. Geological Survey initially said the Turkey earthquake struck with a preliminary magnitude of 7.3 but later confirmed it was 7.2.
The earthquake tremors, with the epicenter in the village of Tabanlı of Vanhit at a depth of 5 kilometres, was felt in Van city center and the neighboring provinces of Bitlis, Muş, Batman, Diyarbakır and Hakkari. Major roads in these areas have been badly ruined, while flights were diverted from Van's airport due to quake damages, too. The quake, which struck on Sunday morning local time, is the worst to hit Turkey in a decade.
"Normally quakes happen 30 to 40 kilometers deep -- this is less than 10 kilometers, therefore there could be more damage," Mustafa Erdik, head of the Kandilli observatory, said in televised comments.
Meanwhile, the U.S. President Barack Obama issued a statement of condolences. "The United States stands shoulder to shoulder with our Turkish ally at this difficult time and are ready to assist," according to an e-mailed statement from the White House.
Other countries that offered help include the UK, Greece, Israel, Azerbaijan, Germany, Poland, Hungary and Switzerland, the state-run-media TRT said. However, Turkey has declined help from Israel during this crisis, Reuters reported.