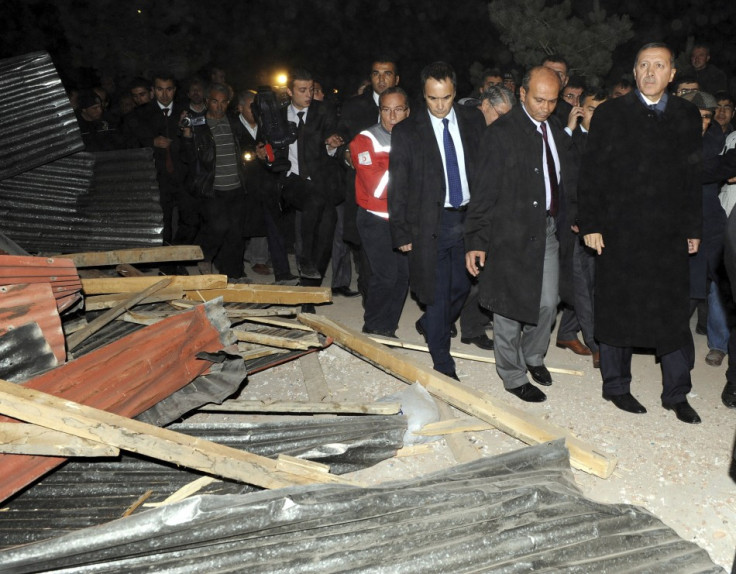 "My wife and child are inside! My 4-month-old baby is inside!" -- cried a young man in Van during a rescue mission to find missing people in a flattened eight-storey building after a 7.2-magnitude earthquake hit Turkey on Sunday, according to a report in The National.
The scenes in Van and Ercis, the most severely hit places, are a grim reminder of natural forces superseding mankind in its ferocity. After the 29-second earthquake, survivors began struggling to tackle darkness haunted by the screams of those stuck in the debris. Without electricity, the only option available for most of them was to run, scream and look for their missing relatives. Even in freezing temperatures, it was not the cold but rather the fear of losing a loved one that terrified them.
When the earthquake struck, Nefise Taylan, a management student, was in the student dormitory at Van's Yuzuncu Yil University. "Everybody ran outside when the ceiling began to fall," she told The Daily Telegraph over the phone. Later, the dormitory collapsed during the quake. "The situation is very bad. We have no electricity," she said.
Several media reports gave the first-hand reports of panic and chaos gripping Turkish people in the aftermath of the massive earthquake.
Sabahattin Alkan, who runs a tourism company in Van, told The Wall Street Journal, "The situation here is really bad. A lot of buildings have collapsed. There are no communications with the villages, so we don't know what is happening out there."
Suheda Ceylan, a veterinarian from Ercis, said he saw more than 30 buildings reduced to rubble and the local hospital was overflowing. "The death toll is rising. Now there is no power, the town is totally dark," he told The Herald Sun. "A sound like an explosion came from the ground and then it just started shaking."
In the district of Celebibag, near Ercis, Mayor Veysel Keser said that countless people were still trapped under rubble. "We can hear the screams of people who are under the rubble, in agony," Keser told The Daily Telegraph. "Student dormitories, hotels and gas stations have collapsed."
The NTV television in a report said hundreds of injured people were being treated at the state hospital in Ercis. Survivors in Ercis complained of a lack of heavy machinery to remove chunks of cement floors that pancaked onto each other, reported the Associated Press. A Dogan news agency video footage revealed how the rescuers tied steel rods around large concrete swabs which they later lifted with heavy machinery.
In Van, terrified and screaming residents scrambled, using only their hands and basic shovels to save those who were trapped. At least 50 people were treated in the courtyard of the state hospital.
Residents sobbed outside the ruins of one flattened eight-storey building, hoping their missing family members would be rescued. Witnesses said eight people were pulled from the rubble, but frequent aftershocks were hampering search efforts, CNN Turk reported. By late evening a teenage girl, the ninth survivor, was pulled out alive.
In televised images from Reuters, in Ercis, rescuers were shown trying to free a young boy, aged about 10, pinned beneath a concrete slab. "Be patient, be patient," they pleaded as the boy whimpered. The lifeless hand of an adult, with a wedding ring, was visible just a few centimeters in front of his face.
A Reuters reporter, who was present during the earthquake, in his report said during one instance a father, whose daughter was among those believed trapped under debris, screamed hysterically, waving his hands in the air as rescue workers desperately tried to reach her.
"Don't touch me! Don't talk to me!" the father shouted as crowds tried to console him. "Oh Mohammad, oh Mohammad!" he shouted, quoted the Reuters.
Due to the earthquake, the electricity and telephone lines got cut. The authorities also in some areas had to cut gas connections to avoid the risk of fire.
On one street, rescue workers were working under floodlights and tried to reach those trapped near two collapsed buildings. Reuters reported that residents believed three teenagers were stuck in the rubble. In order to evoke response, people had to climb those shattered buildings: "Is there anyone there?"
Nazmi Gur, a legislator from Van, was at his nephew's funeral when the earthquake struck. Gur, who cut short the funeral ceremony, rushed to help out in the rescue effort.
"At least six buildings had collapsed. We managed to rescue a few people, but I saw at least five bodies," Gur told the Associated Press by telephone. "There is no coordinated rescue at the moment. Everyone is doing what they can. It was such a powerful temblor. It lasted for such a long time. There is no electricity, there is no heating, everyone is outside in the cold."
Meanwhile, residents of Van and Ercis spent their night huddles around camp fires in the open air, fearing more aftershocks. Most residents fled Van to seek shelter with relatives in nearby villages. "I am taking my family to our village, our house was fine but there were cracks in our office building," Sahabettin Ozer, 47, said by telephone as he drove to the village of Muradiyem, quoted the Herald Sun.