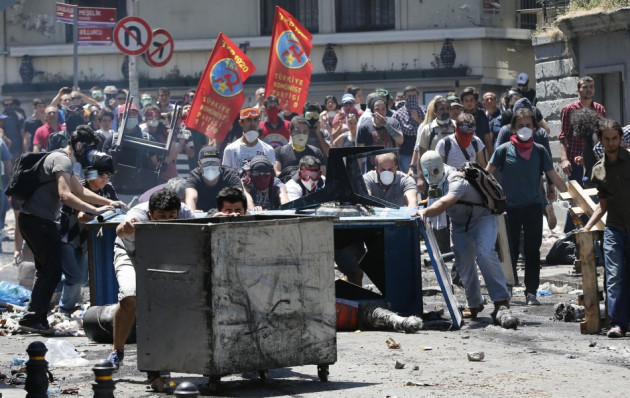 Anti-government protests are raging for the third consecutive day across Turkey as police forces started to withdraw from Taksim Square in Istanbul, the nucleus of the agitation.
Widespread clashes have been reported between the protesters and police in other parts of the country as well, including the capital Ankara.
Police continued to use tear-gas, water cannons and pepper-sprays in many parts of the country to quell the protests. Protesters hurled stones at security forces and made bonfires with whatever they could lay their hands on.
The current wave of anti-government protests is seen as one of the largest. Hundreds of protesters have been detained by the police while dozens of injured have been admitted to hospitals.
Officials in Ankara said more than 90 protests have taken place across Turkey so far.
Prime Minister Recep Tayyip Erdogan urged the people to halt their protests. "Every four years we hold elections and this nation makes its choice. Those who have a problem with the government's policies can express their opinions within the framework of law and democracy... I am asking the protesters to immediately end these actions."
Erdogan also promised an investigation into the excessive use of police force against peaceful campaigners. "Nobody has the right to increase tension and stage protests under the excuse that trees are being cut down. I would like to point out here that just how the majority cannot exert pressure on the minorities of this country; minorities also cannot pressurise and impose their will on the majority."
In his televised address he said: "If this is about holding meetings, if this is a social movement, where they gather 20, I will get up and gather 200,000 people. Where they gather 100,000, I will bring together one million from my party."
The protests started as an environment campaign to save the Gezi Park against redevelopment proposed by the government. It soon snowballed into widespread protests largely fuelled by the latent anger against the government's Islamisation of Turkey.
"All dictators use the same methods, oppressing their people," Mehmet Haspinar, a 60-year-old protester told Reuters.
Erdogan's Islamist-rooted Justice and Development Party (AKP) is perceived as being more inclined towards right-wing ideas.