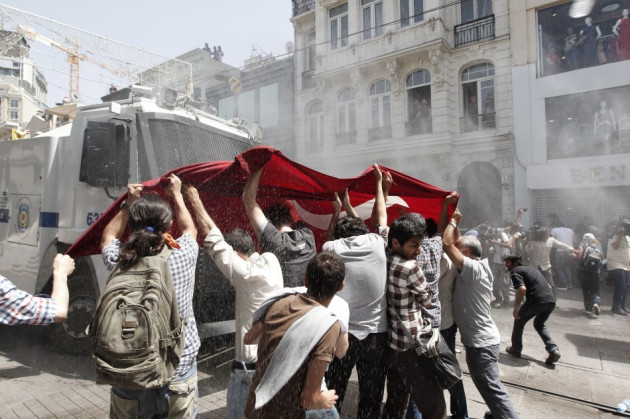 Violent clashes broke out across Turkey on Saturday 1 June as public anger mounted over the police response to demonstrations against plans to redevelop a public park.
Thousands took to the streets around Istanbul's central Taksim Square, while simultaneous protests erupted in the capital, Ankara, the northwestern city of Bursa and Izmir on the Aegean coast.
At least 12 people were injured, one seriously, and a further 63 were arrested, said Istanbul's governor Huseyin Avni Mutlu.
One protester suffered a brain haemorrhage and another lost the sight of an eye, in what threatens to become Turkey's fiercest civil disorder for years.
As the protests entered a fifth day, the violence escalated, taking on a more general, anti-government agenda.
In Istanbul, police in riot gear used water cannon to quell the disturbances, while helicopters were deployed to drop tear gas canisters on the crowds.
Protesters pulled up paving slabs and threw bricks at security forces, with unrest spreading from the central square to the surrounding areas of Cihangir and Beyoglu.
Pepper gas was fired as hundreds marched over the Bosphorus bridge that connects the Asian and European shores of the city. In Ankara, demonstrators attempted to march on parliament.
The violence broke out after police used tear gas to quell a sit-down protest in Gezi Park, one of Istanbul's last remaining green spaces, over plans to build a shopping centre there.
The unrest then spread from Istanbul to the capital, Ankara, and other cities.
"We are confronting a very heavy police presence," said one protester in Istanbul, Ceren Ozgur. "Gas bombs are everywhere. I got stuck in the metro. They threw a gas bomb and then closed the doors."
Another, an Istanbul resident named as Lily, said: "There are 40,000 people crossing the bridge between Asia and Europe today. All the public transport is on lockdown."
"About half past one the entire city started to reverberate. People were banging on pots, pans, blowing whistles."
Amnesty International condemned the authorities' "excessive force against peaceful protesters", saying its observers had themselves been the victim of tear gas and police truncheons.
The US government said protesters were exercising freedoms "crucial to any healthy democracy" and warned Turkey to uphold them.
Allegations of disproportionate use of force by police will be investigated, Turkey's interior minister said.
The unrest reflects growing opposition to the perceived authoritarianism of the prime minister, Tayyip Erdogan, and his Justice and Development Party.
His policies have also been criticised for their "creeping Islamisation", though he insists he remains committed to the nation's founding principle of secularism.
Recent legislation pushed through to curb alcohol consumption has also been criticised.
Erdogan has spearheaded an economic boom, but critics say he has put profit ahead of the environment, while his consolidation of power has been accompanied by a growing intolerance of dissent.
The UK's Foreign and Commonwealth Office on Saturday issued a travel warning, advising UK citizens to avoid all but essential travel to some parts of Turkey.