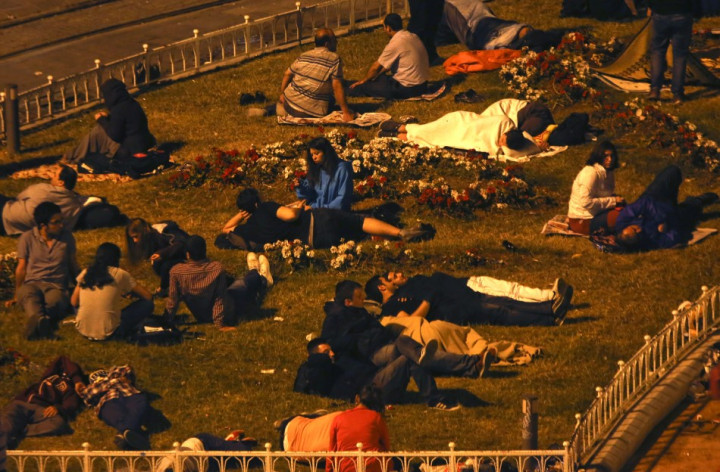 Turkish Prime Minister Recep Tayyip Erdogan has flown back to the country to head crisis talks as anti-government protests entered a ninth day on Saturday 8 June.
Erdogan will chair a meeting of his ruling Justice and Development Party executive committee in Istanbul after the event was brought forward from 19 June, committee member Osman Can confirmed.
However, the party will not discuss calls to bring forward parliamentary elections, scheduled for 2015, in response to the protests, said Can.
Erdogan has defended his government's response to the crisis, which began as a demonstration against plans to redevelop Gezi Park, one of Istanbul's few remaining green spaces.
He condemned violence by protesters, but said his government was ready to listen to opposition demands, if they were expressed peacefully.
The rallies spread across the country after police used tear gas and water cannon against demonstrators.
Thousands of protesters held peaceful vigils against the government in Ankara and Istanbul on Friday.
Police clashed with protesters in Gazi, with demonstrators hurling stones and setting fire to roadbloacks, and police responding with smoke grenades and teargas.
Hundreds of protesters remain camped in Istanbul's Taksim Square, with further demonstrations expected over the weekend.
Demonstrators have attacked Erdogan's "autocratic" leadership, citing police violence, increased Islamisation in schools, and curbs on alcohol sales.
"We're opposed to violence, terror, vandalism," Erdogan told a conference on Turkey's bid for European Union membership on Friday.
"For those who come to me with democratic demands, I'll sacrifice my life."
Erdogan defended the plans to build over the park, saying they were made public before the general election of 2011, which he won with about 50% of the vote.
His chief adviser, Yalcin Akdogan, told the Haberturk YV network that the prime minister had dropped plans to build a shopping mall, proposing instead to build a museum at the site, along with a replica of an Ottoman barracks.
Erdogan returned to Turkey on Friday after a four-day trip to North Africa, and was greeted at the airport by thousands of supporters. It was the first time that pro-government crowds have turned out in large numbers since the protests began.
Responding to calls from the EU's commissioner for enlargement, Stefan Fule, urging Turkey to conduct an independent inquiry into use of force by police against protesters, Erdogan said an investigation had begun.
Erdogan said the protest movement had been hijacked by extremists, and said similar protests in Europe would have been dealt with far more harshly.
"Similar protests have taken place in Britain, France, Germany and bigger ones in Greece," said Erdogan.
Four people, including a police officer, have been killed since the protests began, with hundreds arrested and thousands more injured.
Tensions were inflamed when scores of young people were held by police after posting locations of police lines on Twitter.
Erdogan said his government was open to "democratic demands", but would not bow to "terrorism, violence and vandalism".
He also criticised the EU, saying its accession process was too slow, and that Turkey faced "unjust obstructions".
EU influence in Turkey has waned considerably in recent years, with the number of Turks who support joining the bloc falling to 30% from over 70% in 2005, according to polls.