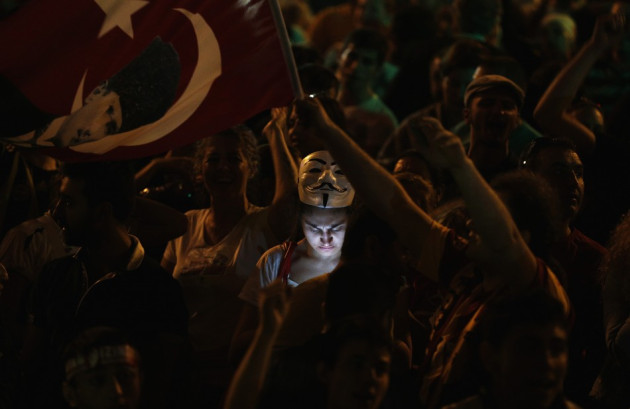 Tens of thousands of protesters demonstrated for a ninth night in cities across Turkey, defying a call by Prime Minister Recep Tayyip Erdogan for an end to the unrest.
The largest crowds yet turned out in Istanbul's Taksim Square, the focal point of the unrest, where fans of rival football clubs Fenerbahce, Besiktas and Galatasaray came together and set off red flares .
Uniformed police pulled out of the square a week ago.
"I have never experienced this friendship, this solidarity among Turks before," said Rustu Ozmen, 29, a lawyer and Fenerbahce supporter.
"We have to keep coming, we can't give up because Erdogan hasn't quit yet."
In the capital Ankara, hundreds of riot police used tear gas and water cannon late on Saturday to disperse around 5,000 demonstrators from the central Kizilay Square.
Police pursued the protesters, who took refuge in side streets off the square in the centre of the Turkish capital. Several people were injured, according to TV reports.
The national doctors' union said two protesters and a policeman had died, and almost 4,800 people have been injured across the country.
Demonstrations broke out after what was seen as a heavy-handed police response to a campaign to stop the redevelopment of Gezi Park in Istanbul. Local rallies spiralled into nationwide protests against the perceived authoritarianism of Erdogan and his ruling Justice and Development Party (AKP).
Erdogan dismissed calls for early elections to resolve the crisis. "You don't decide on early elections because people are marching on the streets."
Deputy prime minister Huseyin Celik said the government was in control of the situation despite the continuing protests.
"The process is under the control of the government, and is becoming normalised and increasingly in line with common sense," he said.
In a concession to protesters, the mayor of Istanbul, Kadir Topbas, ruled out a plan to turn the park into a shopping mall, as had been feared.
But the reconstruction of Ottoman-era military barracks at the site would go ahead because it "was part of our election promises", he said.
Erdogan has faced international criticism for his handling of the unrest. In New York, hundreds of people banged pots and waved Turkish flags in solidarity with the protesters.
The EU has called for an immediate inquiry into police actions, but Erdogan said similar protests elsewhere in Europe would have met with a firmer response.
Critics accuse Erdogan of forcing a conservative Islamic agenda on a secular nation, and pushing large-scale development projects at residents' expense.
Erdogan has been in power since 2002, winning three successive elections in a period of strong economic growth. The next elections are scheduled for next year.
Watch Turkish football fans come together to call for Erdogan's resignation.
Video: 301Plusnews/YouTube