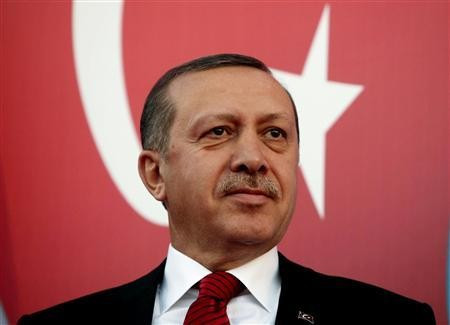 As Tel Aviv refuses to apologise for the deadly Israeli raid on a Gaza-bound Turkish-flagged protest flotilla that killed nine pro-Palestinian activists last year, Turkey is "totally suspending" all trade, military and defence industry ties with Israel, the Turkish prime minister said.
"Trade ties, military ties, regarding defence industry ties, we are completely suspending them," Recep Tayyip Erdogan, said in Ankara on Tuesday.
"This process will be followed by different measures."
Israel's refusal to apologize or take responsibility for the attack has deeply angered Turkey and Prime Minister Erdogan has warned the affair is far from over as more sanctions could follow.
Israel has expressed regret for the loss of lives in the 2010 flotilla incident but has so far refused to issue an apology as it believes the Israeli soldiers acted in "self-defence".
Despite warning from the Turkish government, the announcement of the severance of all trade came as a surprise since Tuesday the Turkish minister of economy had said that bilateral commercial ties would continue as usual.
Last week, after Israel's rejected Turkey's demand for a public apology, Ankara downgraded diplomatic relations with Tel Aviv to the level of second secretary and Friday, Turkey expelled the Israeli ambassador in Ankara, suspended military deals and said it will aim for a greater naval presence in the eastern Mediterranean Sea.
The Israeli diplomats who have been told to leave the country have until Wednesday to exit the territory, and hinting at a possible visit to Gaza, which is set to upset Israel, Erdogan said "We are talking with the Egyptians on this matter ... A trip to Gaza is not finalised yet," Erdogan, who is due to visit Egypt next week, said on Tuesday.
Tensions between Israel and Turkey are not new as the Netanyahu government grew anxious of Turkey's more Islam-orientated government and its renewed interest for the Palestinian question. While Turkey had previously adjusted part of its foreign policy to European tendencies and policies, in the last few years, the country has centred its focus on becoming more influential regionally. Erdogan's last move however proves that Turkey is not so set on its national strategy of "zero problems" with its neighbour when it comes to Israel.
The Turkish government has increasingly pursued active regional diplomacy and economic engagement to avoid conflicts with all of its neighbours, and conscious of its ties with its regional allies, Turkey, it seems, is aware that a dispute with Israel would only further ostracise the Netanyahu government regionally.