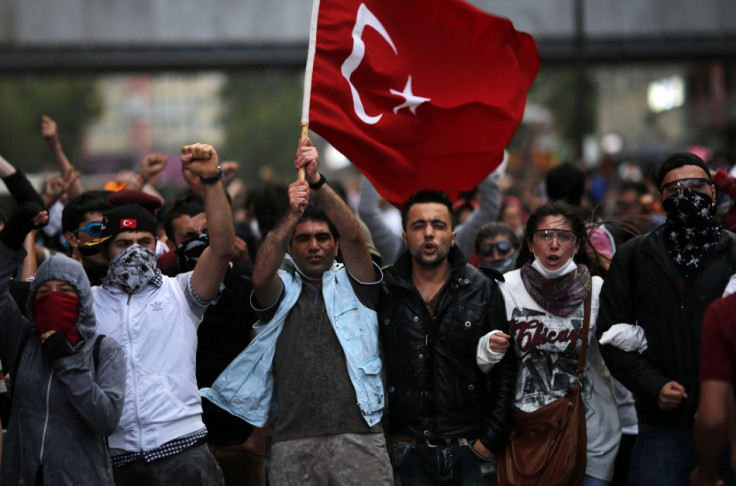 Turkish authorities have detained 24 people in the western city of Izmir for inciting riots and spreading propaganda on Twitter, according to the state-run Anatolia News Agency.
Police were still searching for 14 more people who had been tweeting support for the anti-government protests sweeping the country's biggest cities.
Ali Engin, a local official with the main opposition Republican People's Party (CHP), said suspects were being held for "urging people to protest". He visited the detainees along with their relatives and other party members.
The detainees, according to Engin, were supporting the movement for a fair and free country.
"If that is a crime, then we all committed the crime," he told Dogan News Agency.
Twitter use during the Turkish unrest has soared as the protests mushroomed from a local, peaceful demonstration against the redevelopment of Gezi Park, a rare green public space in central Taksim Square, to a widespread uprising against the perceived authoritarianism and Islamist agenda of Erdogan.
At least two million tweets on the demonstrations were sent between 4pm and midnight in just one day of unrest, according to a study by New York University's Social Media and Political Participation Laboratory. Social media usage in Turkey is very high in the country, and that is demonstrated by the fact that around 90% of the tweets about the uprising are originating from Turkey, according to the report.
The study described the Turks' Twitter use in response to the protests as "phenomenal" and "unique", especially in comparison with other revolts. During the Egyptian revolution, only 30% of the tweets were actually originated from the country.
Traditional media coverage has been criticised by people inside and outside the country. Protesters mocked the pro-government newspaper Sabah, which featured no story about the protests on its front page.
Turkey's Prime Minister Tayyip Recep Erdogan labelled Twitter "a menace".
"The best of examples of lies can be found there [Twitter]," he said. "Social media is the worst menace to society."