Turkish President Recep Tayyip Erdogan and his Russian counterpart Vladimir Putin will meet in St.Petersburg on Tuesday (9 August) for the first time since a Russian jet SU-24 was downed by the Turkish Air Force on the Syrian border in November. Relations between the countries have broken down following the incident.
This will also be Erdogan's first foreign visit after the failed coup in Turkey last month. The coup had lead to a severe crackdown and strained relations between Turkey and its western allies. Erdogan referred to Putin as his "friend" before leaving Turkey and said he wanted to reset relations with Russia. He told Russia's Tass news agency "This visit strikes me as a new milepost in our bilateral relations, starting again from a clean slate."
Yuri Ushakov, Putin's foreign policy adviser told RIA Novosti news agency "I hope that this will lead to the further normalisation of the whole spectrum of our relations with Turkey."
The talks will most likely focus on rekindling trade and investment as well as reinstating travel and tourism ties.
Vladimir Putin could take this opportunity to consolidate relations between Ankara and Moscow as Erdogan blamed the West, particularly the United States, for supporting terrorism in Turkey, last week.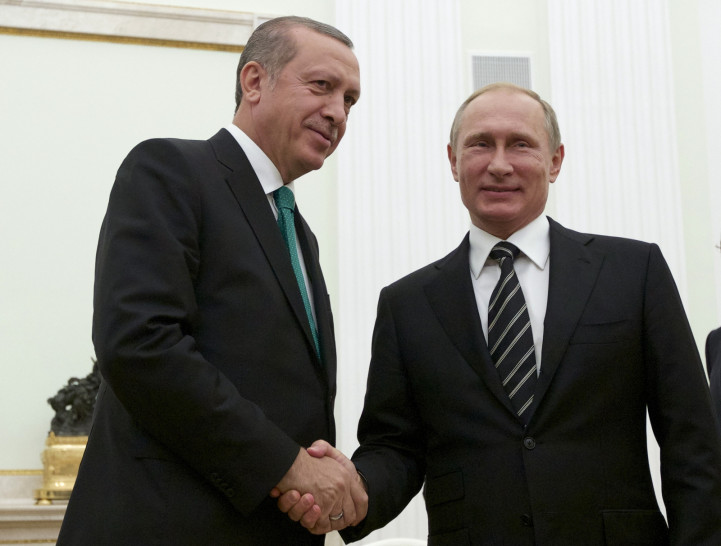 However, the Turkish leader allegedly tried to reach out to Putin after the jet incident but was told that the Russian leader would only speak if Erdogan apologised, which he never did. Russia slapped sanctions on Turkey as all flights between the countries were cut off, bringing down the number of Russian tourists visiting the country to a near zero. In the first half of this year, Turkey's exports to Russia, including food, fell by more than half to $730 m (£562 m).
In June, Erdogan wrote a letter which did not explicitly include an apology for the shooting down of the jet but he apologised to the pilot's families. According to a Kremlin statement, Erdogan also wrote, "never had the desire or deliberate intention of shooting down the Russian Federation's plane." The Russian government accepted the letter as apology and shortly after it, announced Tuesday's meeting.
The leaders are also expected to discuss Syria. While, Erdogan supports the ousting of Syrian President Bashar al-Assad from power, Moscow is Assad's biggest ally, helping him stay in power.