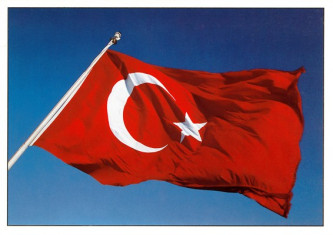 Turkey's Isbank was handed a $26.5m tax fine for the years 2009, 2010 and 2011, and is tipped to face hundreds of millions of dollars in extra payments.
According to a statement to the Istanbul Stock Exchange, Isbank is also expected to pay a total tax fine of $83m (£50.7m, €60.7m) but it intends to appeal the decision.
No other details were given regarding the fine.
Meanwhile, Turkey is currently embroiled in a series of high profile arrests related to a bribery and corruption scandal.
Only one day after 52 people, including three sons of cabinet ministers, were arrested, five police chiefs were removed in Istanbul.
The head of Turkey's state bank Turkiye Halk Bankasi, Suleyman Aslan, was also detained.
A senior member of the government suggested the investigation was aimed at "tarnishing" its reputation.
Political commentators pointed to the long hand of Fethullah Gulen behind the corruption charges.
A moderate Muslim cleric in self-imposed exile in the US, Gulen has helped the ruling AK party win three elections since 2002 and led to the convictions of hundreds of generals accused of plotting a coup in the aftermath.
The eponymous Gulen movement has extensive influence in the Turkish police and judiciary. Gulen members are believed to have infiltrated the secret services, law enforcement offices and the AK party itself.