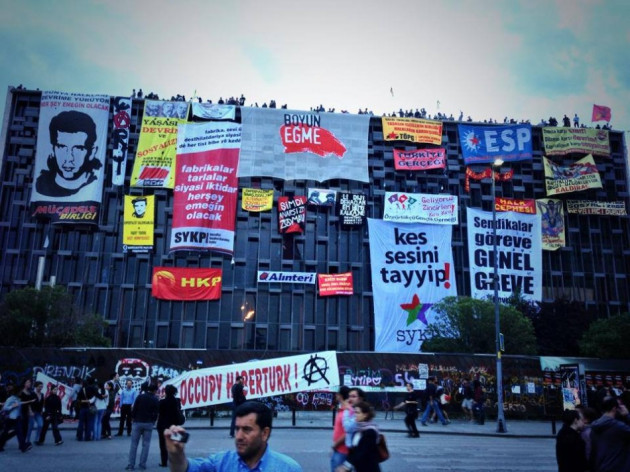 Turkish film researcher and documentary-maker Nagehan Uskan updates IBTimes UK over the situation in Taksim Square while PM Recep Tayyip Erdogan announces that he will go ahead with redevelopment of Gezi Park.
Screams of joy, applause, songs and dances: police have withdrawn from Taksim Square.
Barricades made from battered police cars and pavement slabs do not allow them to get in. Taksim is now our vital space. You can hear different slogans from different groups - even opposed to each other - who before the protests were not in contact and perhaps could not tolerate each other.
There's silence and embarrassment when a group close to the army shouts "We are Mustafa Kemal's soldiers [it refers to Ataturk, the founder of modern Turkey]". You can easily notice the secular and nationalist wing of the movement. But that is not the only one.
At the same time, you can spot a flag of Abdullah Ocalan, founder of the militant Kurdish Workers Party (PKK), several left and anarchic faction and even football fans of Fenerbahce, Galatasaray and above all Besiktas (under the name Çarşı), all together.
You cannot talk about total harmony, but it is clear that we all occupy and share the same space, with the same scope: "Tayyip [Recep Erdogan, the prime minister], go!". We also share the same slogans such as "Shoulder to shoulder against fascism" "Resist until victory" "This is just the beginning, keep on resisting".
Gezi Park is autonomous, it is without the State. It is the place of an ideal life that until a little while ago was only imaginary. There are different pavilions such as the Devrim (Revolution) market, where everyone brings food, drink, cakes, juices, lemons, creams, rennie, vinegar to counter the effect of teargas and so on. Everything is free, like the library where there are people giving books away as gifts and other people can take what they want. There's a small hospital with doctors working as volunteers, a screen for film projection and even a stage for concerts. Tents are spread in every corner of the Park, which now has a new map for its new life.
The creativity and irony on banners and flags is fascinating.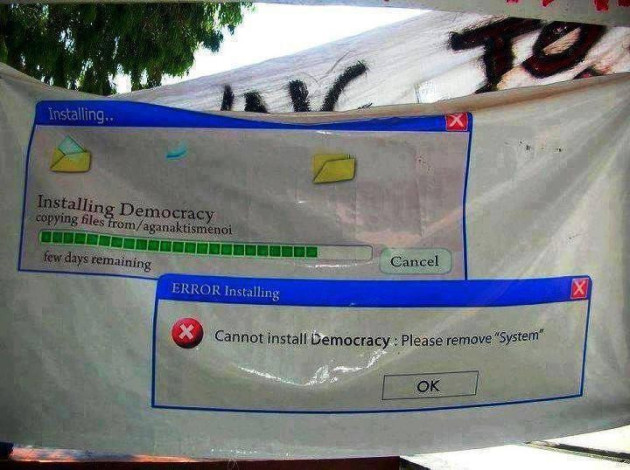 Erdogan graffiti and barricades made out of battered police cars have turned Taksim Square into an open museum. Different kind of sensitivity are awaken and in action. A group of women activists have erased graffiti with sexist, pro-military and homophobic phrases, transforming them into flowers or sentences about brotherhood of men.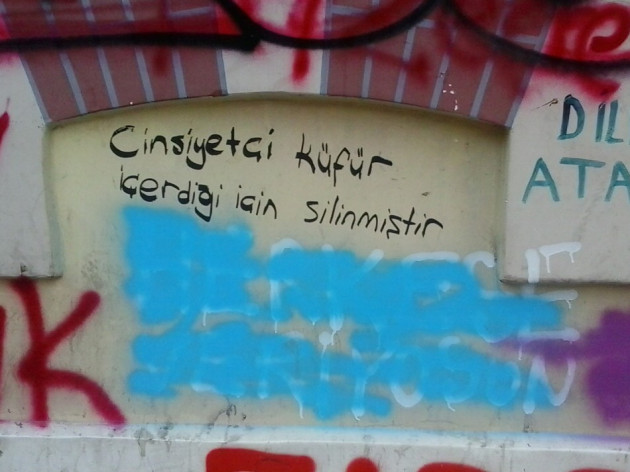 The occupation has taught the word "respect" in its full sense. On the celebration of the religious festival (Mirac Kandili), demonstrators spread the word of not consuming alcohol as a sign of respect, although a group called "Anti-capitalist Muslims" said it was not a problem. There was a common awareness not to drink alcohol for that night. The group prayed at the park and dedicated the prayer to the demonstrators and the young man who had died in Antakya.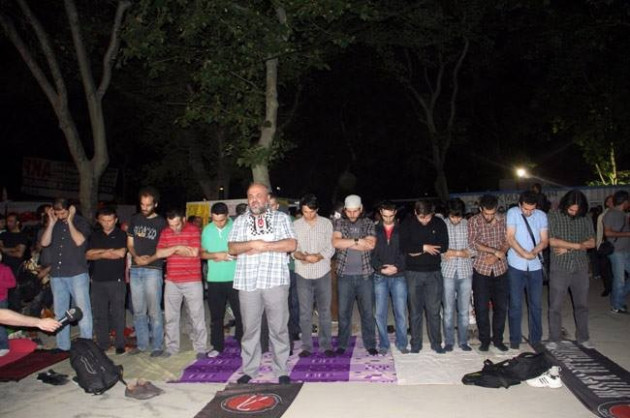 Union members from Kesk and Disk, among them many teachers and doctors, were well-represented at the protests. Taksim solidarity, the group who represent the protesters, has announced its demands to deputy prime minister Bulent Arinc
It's the tenth day of protests. Although we don't like to talk about numbers, after two deaths, more than 4,000 injured, the situation at the park is calmer. In place of teargas, we breathe the oxygen of the park. There's a feeling that we won the struggle. But it's too early to announce that.
Erdogan has just announced that he will not step back in his project to demolish the park.
Clashes in other cities such as Ankara, Dersim, Antakya and Rize are continuing, violently. Keep resisting! We resist. We are beautiful. We are learning. We are winning. Chapulling forever!