A Turkish newspaper has caused scandal by depicting German Chancellor Angela Merkel as Nazi leader Adolf Hitler on its front page.
The right-wing tabloid Güneş – Turkish for 'sun' – publishes uncritical articles of Turkish President Recep Tayyip Erdoğan on a daily basis, but chose to attack Merkel in an ongoing row between the two countries about Turkish demonstrations.
Merkel could be seen with a Hitler-style moustache, clad in the SS uniform and donning a Nazi armband while pointing a pistol.
The front page comes following similar vitriol from Erdoğan in which he likened both the German and the Dutch authorities to Nazis for their efforts to prevent Turkish rallies in support of the president occurring on European soil.
The rallies are in support of a 16 April referendum on constitutional reforms, which if decided in Erdoğan's way, would give him greater powers following last year's failed coup attempt.
Turkey has been defiant to host the rallies in Germany as the country is home to over a million Turks who are eligible to vote in the referendum.
But as the row escalates, it threatens to create bigger problems for Europe as Erdoğan has threatened to scrap the EU migrant deal, which eases the number of refugees moving to the continent.
That threat could be hugely damaging to Merkel as a new wave of refugees would threaten her chances of re-election and she has therefore abstained from dropping her diplomatic tone.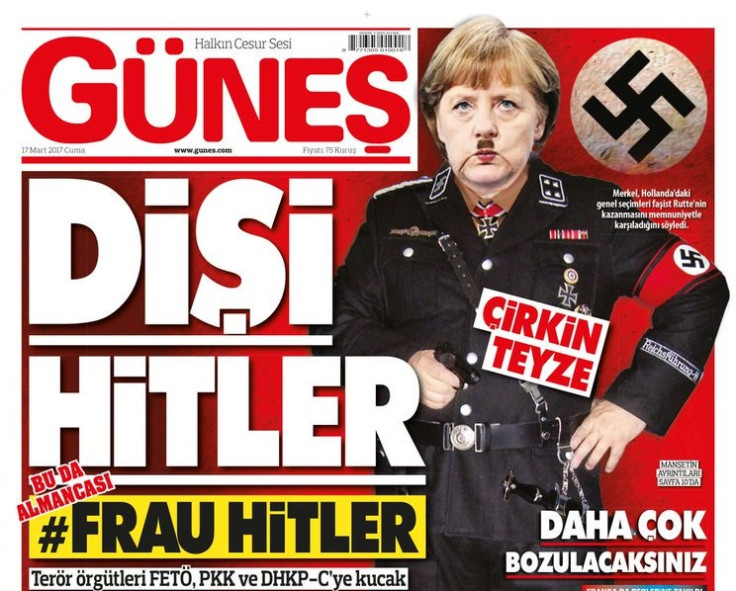 "Chancellor Angela Merkel and her government are anything but confident when it comes to dealing with Erdoğan," Markus Feldenkirchen wrote in an editorial for Der Spiegel.
"Instead she is sadly inhibited. That is primarily because Merkel's Turkey policies are mostly driven by fear. She is paralysed by concerns that Erdoğan could put an end to the refugee deal – a threat he has repeatedly issued.
"The deal's goal isn't all that complex: Erdoğan, whose country is home to just under three million refugees, has agreed to prevent a further wave of migration to Germany and is being paid a handsome sum of money for his services as doorman. Not just with billions of European Euros for the care of refugees in Turkey, but also with ignoble silence about his trampling of democracy and human rights."
Following the defamatory front page, Merkel told the Saarbrückener Zeitung newspaper: "I have no intention of participating in this race of provocations."