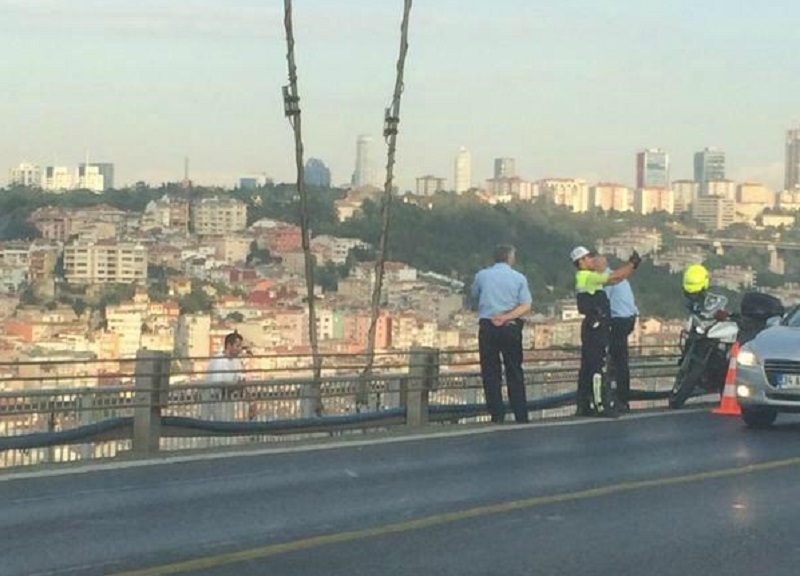 A photo depicting a Turkish policeman taking a selfie near a suicidal man who was threatening to jump off Istanbul's landmark Bosphorus Bridge has sparked online outrage.
The man, identified as Sadrettin Şaşkın, 35, eventually leaped to his death in the waters of the strait separating Europe from Asia.
Şaşkın climbed over the bridge's rails in a suicide bid at 6.30am local time on Monday.
Police were called at the scene and attempted to talk him out of it.
As the rescue effort was ongoing, an official turned his back to Şaşkın and seemingly snapped a selfie on his mobile phone - with the would-be-suicide victim on the background.
The moment was captured by a passer-by on the highly trafficked bridge and posted online, causing the ire of many netizens who accused the policeman of insensitive behaviour, Hurriyet newspaper reported.
After three hours of unsuccessful negotiations, Şaşkın, who local media said was known to have attempted suicide in the past, jumped off the bridge.
Naval police officials said the man was alive when they pulled his body from the water.
The 64-meter fall had however left him unconscious and he was later pronounced dead as attempts to revive him failed.
Meanwhile police said they have launched an administrative investigation into the officer's conduct.
People feeling distressed who feel the need to talk to somebody should call the Samaritans on 08457 90 90 9008457 90 90 90 or email jo@samaritans.org.