Turkish President Recep Tayyip Erdogan edged closer to acquiring greater powers as a draft law for constitutional changes got the green light from the country's parliamentary commission.
The reforms were approved following 10 days of intense debate between the committee's ruling party and main opposition party members, the Associated Press reported. If enacted, the constitutional reform would bestow executive powers on the president, as well as extending his mandate. Critics worry the proposals could lead to authoritarian rule in Turkey.
The role of the president is largely ceremonial as executive power is concentrated in the hands of the prime minister — although Erdogan's influence on his party, on the government and on the country as a whole has not waned since he took on presidential duties. Erdogan was voted in as president in August 2014, after serving three consecutive terms in office as prime minister between 2003 and 2014, the maximum number of terms permitted under the constitution.
The ruling AK Party, which Erdogan founded more than a decade ago, is short of the 330 seat majority necessary to ratify the constitutional changes in the legislative assembly, and it is now seeking the backing of the nationalist MHP party to ensure a favourable vote in parliament. A vote in the general assembly is expected to take place in January and a referendum on the constitutional changes may follow in the spring.
A state of emergency was declared following the failed coup of 15 July and hundreds of thousands of people have lost their jobs or been imprisoned in the ensuing purge. Freedom of expression has particularly been affected in the post-coup clampdown, with the country currently detaining at least 81 media professionals, the highest number in the world, according to the Committee to Protect Journalists. Reuters have confirmed more than 130 media outlets have closed down since the coup attempt, with writers and reporters facing charges of terrorist propaganda.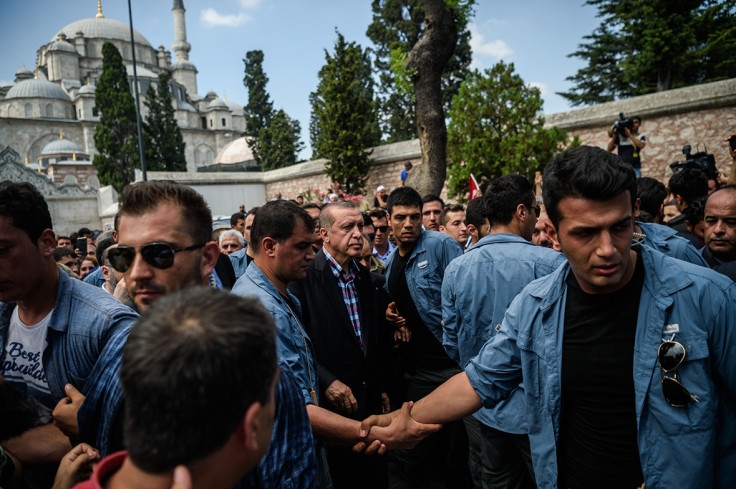 The latest arrest occurred on 29 December, when prominent Turkish journalist Ahmet Sik was detained over a statement made on Twitter. Opposition lawmaker Baris Yarkadas, who spoke to Sik, announced on Twitter that the reporter was being accused of terrorist propaganda, Reuters reported. State-run news agency Anadolu said Sik was also being accused of insulting the Turkish state, its judiciary, military and police through several Twitter posts and his work on the Cumhuriyet newspaper, whose editor-in-chief was arrested in October.
Also on 29 December, Turkey released on probation author Asli Erdogan and linguist Necmiye Alpay, who spent 132 and 120 days respectively behind bars on charges of promoting terrorist propaganda in their roles at the daily Özgür Gündem, which was closed in August over alleged links with the outlawed Kurdistan Workers' Party (PKK).