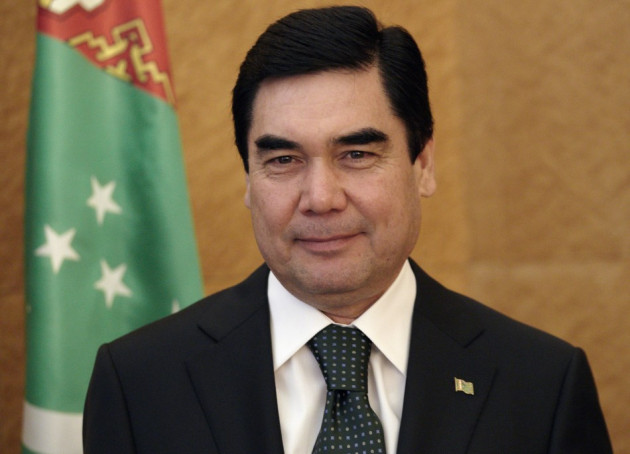 Turkmenistan has joined North Korea as the worst country in the world for press freedom in democracy watchdog Freedom House's 2013 rundown of repressive regimes.
The story of President Kurbanguly Berdymukhamedov's fantastic victory in a horse race might well explain why.
State media reported on an impressive victory for the president's horse in the annual national race day.
Riding a horse named Berkarar (Mighty), the former dentist who turned dictator in 2006, was the first to cross the finishing line to seize the $11m (£7m) first prize.
A packed stadium in the capital of Ashgabat applauded as the 55-year-old leader posed for pictures in a traditional white Turkmen "telpek" sheepskin hat at the end of the 1km race, local media reported.
"President Kurbanguly Berdymukhamedov has yet again demonstrated not only his high class as a horse rider but also his strong will, firmness and courage," the Neitralny Turkmenistan daily newspaper read.
Berdymukhamedov, who famously established in 2011 an annual horse beauty contest including an award for the best carpet featuring a horse, said he would donate his winnings to a state horse breeding company.
According to Freedom House's Freedom of the Press 2013 report, however, Turkmenistan media are not the most reliable when it comes to reporting the president's deeds.
"Independent media are either non-existent or barely able to operate, acts as a mouthpiece for the regime, citizens' access to unbiased information is severely limited, and dissent is crushed through imprisonment, torture, and other forms of repression," the report says about Turkmenistan and its fellow "worst of the worst" countries - Belarus, Cuba, Equatorial Guinea, Eritrea, Iran, North Korea and Uzbekistan.
The unofficial story of the horse race emerged as a video of it was smuggled out of the stadium and posted online to New York-based Eurasianet. The footage indeed shows Berdymukhamedov crossing the finishing line first. However, his challengers appear to be riding at a suspiciously slow pace.
Moments after Berdymukhamedov crosses the line he falls off his horse. Security staff rush to his aid and the president is bundled into an ambulance.
For about 30 minutes the public had no clue if Berdymukhamedov was dead, alive or badly injured. The president finally reappeared, waved to the crowd and later handed out prizes.
Security officials reportedly searched the hundreds of guests, including journalists and horse-racing club members from around the world who had been invited to witness the president's riding skills, to prevent footage from leaving the country.