With the iPhone 5S and iPhone 5C now on sale, former Android users will want to know how to transfer their contacts, calendars, photos, music and other data from their old device to their new iPhone.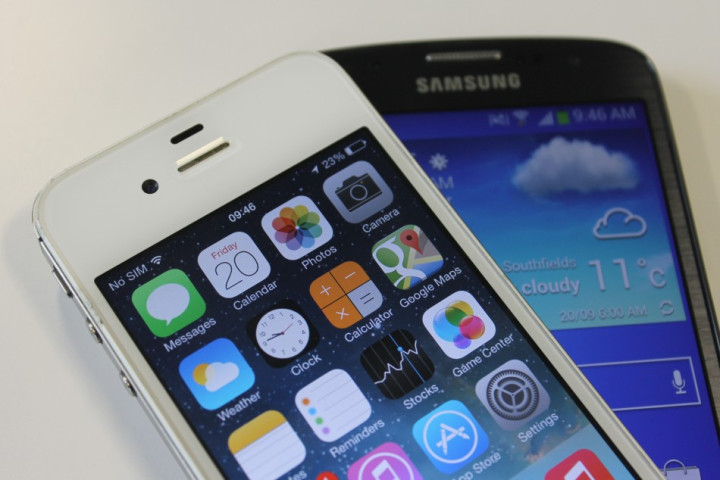 This guide will take you through all the steps needed to copy data over from an Android device to an iPhone.
Although you're moving away from Android to Apple, Google will still be with you and its services are key to making the switch as painless as possible.
Contacts
Chances are, your Android phone is synced to the Google account you use for email and the company's other services. Open the Settings app, tap Accounts and Sync (or similar - it's the Accounts tab on the Samsung Galaxy S4 Active I'm using for this tutorial), then tap on Google.
Next you'll see the Gmail address used by your phone. Tap it and you'll be greeted with a list of content that the account can sync between the phone and Google's servers. App data, calendars, contacts, email - it's all there. Ensure the checkboxes of everything you want to transfer to your iPhone are checked and tap Sync Now at the foot of the screen.
Now switch to your new iPhone, complete the activation process, then open the Settings app and go to Mail, Contacts, Calendars > Add Account > Google. Enter the email and password used by the Google account you just synced on the Android phone and tap Next. Ensure everything you want to sync is checked, then tap Save.
Wait a minute (it may take longer if you're not on Wi-Fi) and your Google content will now start to populate the Contacts, Phone and Calendar apps of the iPhone. Now, any addition or change made to data on your Android phone or Google account will be mirrored by your iPhone.
Google Play Music
There's no official Google Music app for iPhone or iPad, but that doesn't mean you can't use the service to stream the up to 20,000 tracks Google will let you store on its servers for free.
Search the iOS App Store for 'Google Music' and loads of apps appear all offering virtually the same service. I used a free version of the 'Melodies: Google Music Client' app and once logged in with my Google account details it worked as expected, letting me browse and stream all tracks stored in Google Music.
For music purchased through Google Play, if this is stored on your computer you can drag and drop everything into iTunes, where it will play as normal and sync over to your iPhone when you next plug it in.
If your purchased Google music is in the cloud, download the Music Manager application to your computer, select the Download tab and use the Download my Library function - this music can then be added to your iTunes library and synced to your iPhone.
Photos and Video
Plug your Android phone into your computer and it will be viewable as an external drive (or two drives if your phone has an SD card installed). Click on the drive marked Phone or Card, depending on where your photos are saved, then go into the folder called DCIM, then Camera - this is where all photos taken on your Android are stored.
Simply copy and paste these into a folder on your computer, then do the same for videos and any other content saved on either phone or SD card.
Now plug in your iPhone and open iTunes. Click on your phone in the top right of iTunes, then the Photos tab. Click the Sync Photos checkbox then Choose Folder and navigate to the folder of photos you just copied off your Android phone. Click Sync and your photos will all be transferred to the iPhone - providing there's enough space on the phone, of course.
Google Apps and Services
If you're a user of Google Drive, Docs, Gmail and more there's no need to stop using these services when you switch to iOS; there are alternatives, but Google has iOS versions of its applications and thanks to cloud syncing all your documents will be exactly how you left them.
Chrome, YouTube and Google Maps all work excellently on iOS - and since Apple introduced its own mapping system with iOS 6 in 2012, Google Maps for iPhone has proved to be much better than Apple's alternative. You'll need to sign in to each app with your Google details, but once you have, the user experience is identical to that on an Android phone.
All Google apps available for iOS devices in the UK are as follows: Maps, YouTube, Google+, Gmail, Drive, Chrome, Shopper, Books, Local, Earth and Translate.
Text Messages
Saving reams of text conversations might not be of concern to many, but I always try to transfer mine whenever I switch phones - the amount of times I need to dig through an old conversation to find an address, phone number or other piece of important information that I've not saved somewhere more sensible is forever growing.
Unfortunately, while copying entire conversations from one Android to another is easy, transferring them from Android to iOS isn't as straightforward, and the only option I've found involves paying $25 for Backuptrans, which claims to offer the service we're looking for, but I doubt many texts are that valuable - at least the option's there for those who need it.
Must Read: