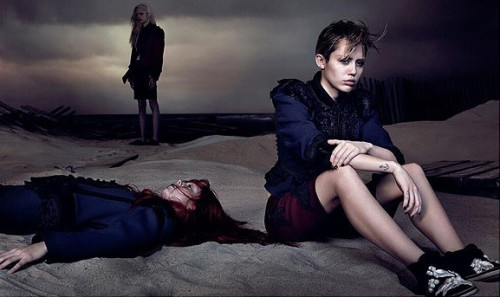 Twerking Queen Miley Cyrus has been unveiled as the new face of American fashion label Marc Jacobs.
The controversial pop star was handpicked by her "fashion mentor" Jacobs to front his eponymous brand's spring/summer 2014 campaign.
"We all just love her and her entire being, her energy, her talent, her intelligence, everything," Jacobs told WWD. "There's nothing I don't like about her. She is just genuine and very natural."
In the images shot by renowned fashion photographer David Sims, the Wrecking Ball hitmaker is seen on a sandy beach with models Natalie Westling and Esmerelda Seay Reynolds.
She sports a nautical blue blazer and red shorts in what appears to be a post-apocalyptic scene.
"We wanted this beach with girls kind of sulky and broody, and we thought it would be cool if it was Miley with what could be two friends, feeling distant and quite dark," Jacobs said of the concept.
Cyrus recently credited Jacobs for helping her with her dramatic image overhaul, which has officially killed her Hannah Montana good-girl persona.
"I work a lot with Marc Jacobs. He kind of brought me into fashion, like, when I was 16. That was when I started being around him and just learning from him," she said in a recent interview.
"He kind of let me inspire some of his pieces, and now I feel like it's just having the right people around you."
However, not everybody was pleased with Cyrus's new appointment. Juergen Teller, one of Jacobs's key collaborators, stood his ground and refused to shoot the campaign.
"I have worked with Juergen for years and love him as an artist," Jacobs said. "He just didn't want to shoot her."