Popular live stream gaming platform Twitch has launched a new full-time food channel dedicated to all things food. The channel is kicking off with a four-day marathon of Julia Child's beloved 1960s cooking show "The French Chef."
While most of Twitch's monthly audience of more than 100 million flock to watch the live action streams of top players of League Of Legends, Counter-Strike: Global Offensive and World Of Warcraft, the company said they found that its community members were sharing other types of creative video content including painting, illustration, music and makeup. In October 2015, the company launched Twitch Creative to expand their community by allowing broadcasters to showcase their passion and creative processes. Twitch.tv/Food will showcase all cooking content 24/7 on Twitch Creative.
"As pop culture has gotten more bombastic over time, [Child] harkens back to a more conversational and relaxed type of programming. It's not about screaming to be heard, but connecting to be felt," Bill Moorier, head of Twitch Creative, told Quartz.
Julia Child's The French Chef was produced between 1963 and 1973, introducing American television audiences to French classics like beef bourguignon, crêpes suzette, cheese souffle and others with her jolly persona and "happy little accidents".
"As the original TV chef, Julia Child laid the groundwork for all food show hosts today," Twitch said in a statement. "By inviting viewers into her home and addressing them with a friendly and forgiving attitude, she inspired generations of cooks to take risks in the kitchen."
More than 6,000 people have already tuned in to watch the first episodes of Child's show after its launch on 15 March, leading one Twitch commentator to write, "Microwave generation watch cooking show on a gaming stream website." The service's chat room was also full of comments about the amount of red wine, vermouth and brandy used in her French onion soup recipe and the liberal use of butter in most of her others.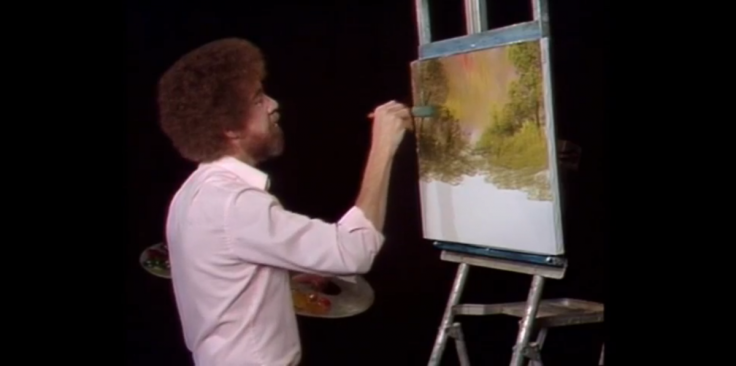 In October 2015, Twitch streamed the entire run ofBob Ross's "The Joy of Painting"over the course of a week, garnering more than 5.6 million unique viewers and, at its peak, more than 183,000 concurrent viewers. Known for his soothing manner, Ross, who taught children the joy of painting in the 1980s and 1990s, was such a hit on Twitch that they decided to bring it back as a weekly series. However, it did get its dose of hostility and negative comments in the service's chat room that is often seen in the aggressive gaming world.
The dedicated gaming website was launched in 2011 as an offshoot of the Justin.tv platform before it was bought by Amazon in 2014 for $970m (£689m).As of August 2015, Twitch had more than 1.5 million broadcasters and 100 million viewers per month who watch 106 minutes of video daily.The launch of Twitch Creative could heat up the rivalry between Twitch and YouTube that has typically been seen as the go-to broadcasting platform for musicians, artists and DIY-ers looking to get their big break.
The cooking channel's launch date also happens to be the 65th anniversary of Child's graduation from Le Cordon Bleu in Paris, where she received her culinary training. Other user-generated cooking shows and content will begin airing after the marathon is completed.