Twitter has finally opted for a video approach to rival Facebook. The microblogging network on Thursday (October 8) expanded its Amplify programme with pre-roll ads in video content, as well as enabled the option to let users upload video directly from its web presence.
Twitter Amplify, the ad-focused feature that the company launched in 2013, has now been updated to let publishers easily monetise their video content on the network. Advertisers, on the other hand, have the same video content in a categorical order that they can use to run their pre-roll ads for up to six seconds. The feature itself works as an ad model for publishers and advertisers.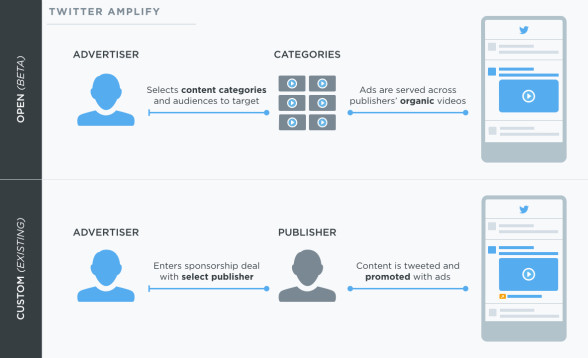 The company says that the technology behind Amplify helps advertisers serve their offering by dynamically inserting their pre-roll ads into the most relevant videos of any selected category. Likewise, publishers will receive ad revenue through automated revenue share payments.
Content publishers will be offered 70% of revenue through the new advertising model, while 30% will be added to the accounts of Twitter. This could be considered as a commission, but is far lower than the 45% revenue share in case of Facebook.
Baljeet Singh shares the latest on Twitter Amplify: http://t.co/Ip0Q8PzuKg

— Twitter Advertising (@TwitterAds) October 8, 2015
"With this update, advertisers can run video ads against premium content automatically based on their preferred content categories — without having an existing publisher-advertiser deal in place," Twitter's senior product manager David Regan wrote in a blog post.
Twitter has initially partnered with publishers like Fox, MTV, USA Today and BuzzFeed to kick-start its Amplify model in the US. However, there are plans to expand its presence globally in the coming future.
Video uploads now available on Twitter via web
Apart from the expansion of Twitter Amplify, the company has finally added the option to let users upload video content to Twitter via the web. The site supports videos of 512MB in size and 30-second length, at present. An option to trim long-length video content is also available on the site to ease trimming and uploading of video content.
Your phone shouldn't have all the fun. Videos can now be uploaded to Twitter via web! https://t.co/4Q4rpzUmPh pic.twitter.com/AdqK2U9SRQ

— Twitter (@twitter) October 8, 2015
The new announcements come a week after the San Francisco-based company named Jack Dorsey as its permanent CEO. Dorsey, one of Twitter's co-founders, is the person directly responsible for revenue generation as well as overall growth of the microblogging network.
Compared to Facebook's massive user base of over 1.44 billion monthly active users, Twitter has some 302 million active users. This suggests that the new intiatives alone will not be enough to help the company come close to the social networking giant. Yet, the microblogging network may be able to persuade more users through its new video approach.