YouTube sensation Tyler Oakley may have discovered the downside of the Internet when he got into a Twitter row with One Direction singer Liam Payne. The vlogger now admits it was a learning curve. Opening up about the incident, Oakley credits his close friends for helping him get through what was one of the lowest points of his career so far.
Oakley, 26, has detailed his life story so far in his first autobiography, Binge, which is set for release on 20 October. As well as recalling his childhood experiences, YouTube career and work with the LGBT community, the US vlogger discusses the impact of his online spat with the world's biggest boy band.
In January 2014, Oakley expressed his dismay that Payne, 22, tweeted his support for Duck Dynasty's Phil Robertson despite accusations that the reality star made homophobic comments in an interview with GQ magazine. The vlogger, who has amassed 7.5m subscribers on his YouTube channel, tweeted at Payne, 22: "Wow. Very confused and disappointed by this @Real-Liam-Payne tweet. This literally changes everything."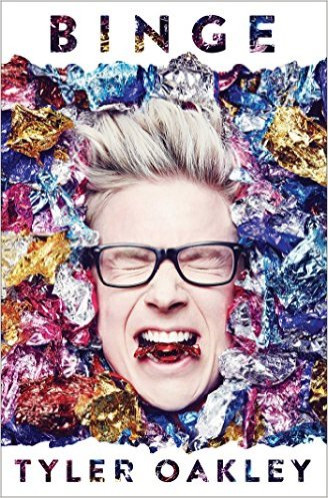 Oakley received intense backlash from 1D fans who flooded his Twitter timeline with negative comments and forced him to take some time out from social media.
Reflecting on the incident, Oakley told IBTimes UK: "It was one of those experiences where – I love pop music, boy bands and One Direction and that has never changed, it's always been real and authentic.
"I guess an experience where you learn who you might look up to, you might not know. It was an eye-opening moment where it all changed in a minute by holding other people accountable. Everything was intense and there was a lot going on on the Internet."
Fortunately, Oakley had a close unit of friends – both real life and online – to lean on during the experience. The vlogger continued: "I got through it by being able to lean on my friends and other Internet people who spend their lives online and have to be conscious of the impact and what they say. Just to have those people to lean on while it was happening was pivotal for me.
"Even though now years later it's just a thing that happened, but at that moment I thought my career was gone and done. Now to have gotten to the other side of it all, to look back on it, I feel like I've grown a lot from that. It's one of those experiences where it feels like the end of the world at the time but I am so thankful that it happened because I learnt a lot about myself and the Internet, communities and fandoms."
Although they are no longer in contact, Oakley has no bad feelings towards the boy band and is putting the negativity behind him. He revealed: "It really led me to a retrospective place surrounding those topics. I went my separate way and it's not a negative thing because to me, I still add their music to my playlist, I still buy their albums - but it's something that I would prefer not to have be part of my public experience."
Binge has been a long time coming with Oakley approached about writing a book several years ago but instead chose to enjoy life experiences that, he says, has contributed to a better book. The YouTube star said of his memoir: "It feels like some of the stories came full circle and were able to be fleshed out more. Plus knowing that I could someday write a book, I was able to approach life a little more differently and think, 'Oh, I could make a video about this or this could make a pretty great chapter in my book someday'."
Binge, published by Simon & Schuster, will be available from 20 October.