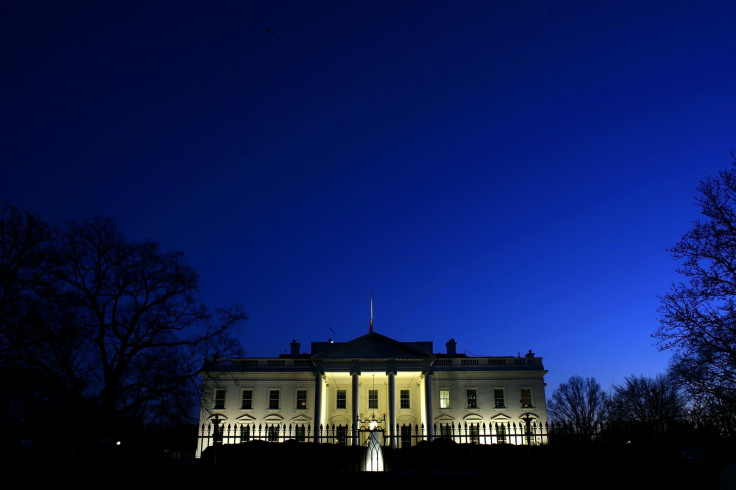 Mysterious red lights flashing inside the White House late on Sunday night (28 May) has gotten the Internet buzzing with wild and hilarious theories. A local Fox News station, which had TV cameras regularly positioned on the White House, caught the strange red strobe lights around 8:30PM EST on Sunday. The lights seemed to be emanating from two windows on the second floor of executive mansion.
"Strange lights are illuminating inside the White House," FOX 35 WOFL wrote on its Facebook page. "We're working to find out what is going on."
Twitter users quickly jumped at the opportunity to offer some of their own hilarious thoughts and theories dripping with sarcasm, from a possible rave or Disco night to a morse code message to the Russians.
Some joked that Trump brought back the glowing orb from Saudi Arabia with him to Washington while some mused that Trump's tanning bed is acting up.
"It's Morse code," one Facebook user wrote. "It says 'I don't know what I'm doing... Please help me... For the love of God... Make it stop..."
Another wrote: "Sean Spicer opened a portal to hell. The other back channel for the Administration."
"The red light flashing at the #whitehouse could be a signal to his lawyers that's opened his Twitter app," one Twitter user wrote.
Emmy nominated-writer and actor Jeff Loveness tweeted: "I'm guessing that flashing red light in the White House means Trump has finally lost control of the Time Gem and our nightmare is almost over,"
On Monday, the New York Post reported that the lights were just a reflection from emergency vehicles responding to a nearby medical incident in Lafayette Park near the building.
"The red lights had nothing to do with the White House," a Secret Service spokesperson told The New York Post.