On Friday, House speaker Paul Ryan said his party "came up short" minutes after Republicans were forced to pull legislationto repeal and replace the Affordable Care Act. Ryan said during a news conference that he called President Donald Trump on Friday and said he felt "the best thing to do" would be to pull the bill - a decision with which the president agreed.
"I will not sugarcoat this," Ryan said. "This is a disappointing day for us. Doing big this is hard... Ultimately, this comes down to a choice. Are all of us willing to give a little to get something done. Are we able to accept something good rather than perfect."
The GOP eventually decided to pull the American Health Care Act, dubbed "Trumpcare," after it became clear that they did not have enough support to pass the bill in the scheduled 3:30 PM EST vote.
"We were close but not quite there," Ryan said. "There is a block of no votes that we had... That is why this didn't pass. Obamacare is the law of the land and will continue to be the law of the land. We will be living with Obamacare for the foreseeable future."
In the aftermath of the bitter legislative defeat for Trump's early presidency, the president blamed Democrats for the failed healthcare bill and said Obamacare is "imploding and soon will explode."
"We're just a very small number of votes short in terms of getting our bill passed," Trump told reporters. "A lot of people don't realize how good our bill was.
"I've been saying for the last year and a half that the best thing we can do, politically speaking, is let Obamacare explode. It is exploding right now. Almost all states have big problems.," he continued. "It's going to have a very bad year."
He added: "We will end up with a truly great healthcare bill in the future."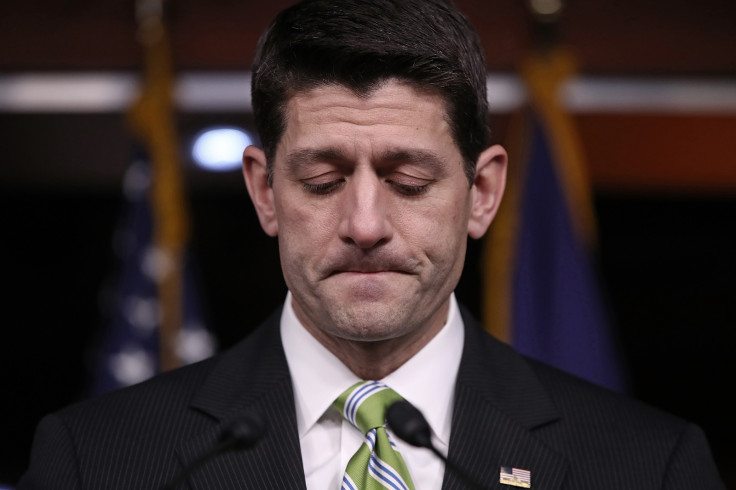 However, many social media users, including politicians and celebrities, gleefully reacted to the Trumpcare failure with a slew of hysterical memes, jokes and comments.
"Today's #TrumpCare failure would not have happened if not for the energetic activisim of the American people," Democratic Virginia Senator Tim Kaine tweeted.
Senator Robert Menendez tweeted: "Hey Republicans, don't worry, that burn is covered under the Affordable Care Act."