Twitter accidentally blocked one of The New York Times' verified accounts for nearly 24 hours over the weekend for allegedly violating its rule against hateful conduct. The company later apologised for the block that was imposed due to a "human error".
The tweet in question promoted an article about Prime Minister Justin Trudeau's apology to indigenous people in the Canadian providence of Newfoundland and Labrador.
The article referred to Trudeau's public apology and addressing of the fact that indigenous children were forced to attend boarding schools in the past, where some were subjected to abuse.
"Left out of an apology a decade ago, native people in Newfoundland and Labrador get an apology from Justin Trudeau," the supposedly offending post read.
The newspaper was told that its @nytimesworld account, which covers international events and has about 1.9 million followers, violated Twitter's rules about hateful conduct.
As per Twitter's rules, users "may not promote violence against, threaten or harass other people on the basis of race, ethnicity, national origin, sexual orientation, gender, gender identity, religious affiliation, age, disability, or serious disease".
The New York Times account was blocked on Saturday and was later restored about 24 hours later.
"After reviewing the account, it appears that one of our agents made an error," Twitter said in a statement. "We have flagged this issue so that similar mistakes are not made going forward."
The error happened to occur the same day that the New York Times triggered backlash over a separate article profiling a Nazi sympathiser. Many critics slammed the Gray Lady for "normalising" the views of white supremacy groups. However, tweets about that story were not banned on Twitter.
This isn't the first time Twitter has erroneously blocked an account due to a human error either. Earlier this month, a rogue employee on his last day of work briefly deactivated President Donald Trump's account for 11 minutes – a move that caused an uproar and drew praise en masse on social media.
In October, the company sparked controversy after temporarily restricting the account of Rose McGowan after the actress publicly accused Hollywood producer Harvey Weinstein of rape. The company later restored her account and said the block was due to her "inclusion of a private phone number."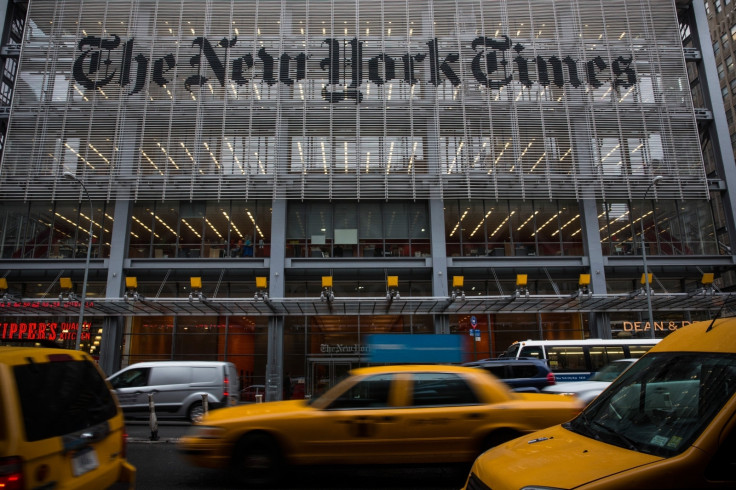 The New York Times account's suspension also comes as Twitter drops the ban hammer on verified accounts that don't adhere to its policies and rules. It recently paused its "broken" verification system following backlash for awarding Jason Kessler, the organiser behind the deadly Charlottesville rally, a blue tick early this month.
Twitter is also struggling to combat hate speech, harassment and abuse on its platform and has received flak from lawmakers over its delayed response to take down offensive content.